Steve Austin Turned Down WWE WrestleMania Creative Several Times Before Kevin Owens Idea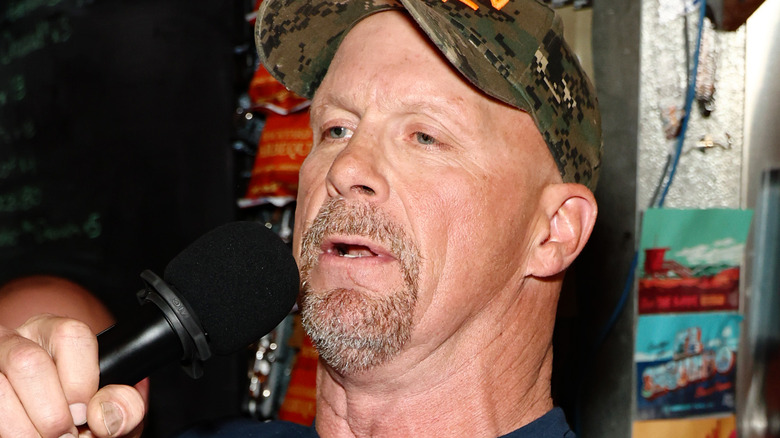 Joe Scarnici/Getty Images
"Stone Cold" Steve Austin made his emphatic return to a WWE ring at WrestleMania 38, defeating Kevin Owens and dropping one of the most memorable stunners on Vince McMahon for all the wrong reasons.
According to Austin, a big reason why he decided to come back was the pitch he was given by WWE. The "Texas Rattlesnake" started his career in Dallas in the 90s, and to get the chance to finish it "where it all started" was a big draw for him to wrestle Owens. Austin also spoke about the unsuccessful pitches that WWE tried with him prior to settling on the spontaneous match with Owens, during the latest episode of the "Out of Character" podcast.
"Oh, I turned them down several times until they kept coming back with different creative," Austin said. "[Kevin Owens] was always in the conversation, I was down with that because I love that guy, he's awesome. On the inside, I was knocking his head off so many times, because I hadn't thrown a punch in 19 years and I told him when we got finished, 'Dude, I cannot believe you didn't give me a receipt out there.' That's the good-natured heart of KO. I think he was thrilled to be out there and I was thrilled to be with him. It took some talking, we got everything lined up and you saw what happened."
Continuing the theme of turning down WWE's ideas, it's been heavily rumored that Austin was previously given several different pitches to come back for WrestleMania 39, but he passed on the chance. According to Austin himself, he hasn't been in contact with the WWE and believes the company has "as good a roster" as they did back in the Attitude Era, and should continue shining the cameras on their current talent.