Mike Chioda Thinks That Mandy Rose Could Have Been Like Trish Stratus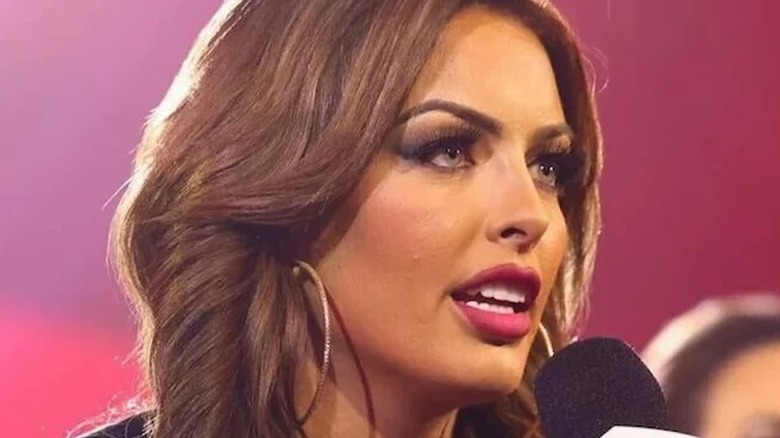 WWE
Back in December, Mandy Rose's 413-day reign as "WWE NXT" Women's Champion came to a sudden end when she was defeated by Roxanne Perez. The very next morning, she was released, ending her eight-year spell with the company due to the suggestive nature of her FanTime content. 
Prior to her release, Rose had spent more than a year truly honing her skills as a key component of WWE's developmental brand, so much so that former WWE referee Mike Chioda recently suggested that she could've been a modern-day Trish Stratus.
"She could've been definitely a Torrie Wilson type," Chioda said on "WrestleBinge by Sportskeeda." However, he immediately made a distinction between the two due to the former "NXT" star's wrestling ability. "I love Torrie Wilson, she was a great gal, but Mandy Rose definitely had the work ability too as far as in the ring a lot better than Torrie Wilson," he added.
Chioda went on to suggest that given Rose's in-ring ability, it was easier to separate her from the likes of Wilson or even Stacy Keibler, as women in WWE during that era were unfortunately utilized based more on how they looked rather than their in-ring ability. 
"So I thought she would be almost like — she's so beautiful with the work ability — she could've been like maybe a Trish Stratus," Chioda added.
Throughout 2022, Rose showed plenty of fans that she could wrestle, and was ultimately voted PWI's Most Improved Wrestler of the Year as a result. Plus a 413-day title reign, the third-longest in "NXT" history, doesn't just happen accidentally. That's possibly where the Stratus comparison comes into play.
If you use any quotes from this article, please credit "WrestleBinge by Sportskeeda" with a h/t to Wrestling Inc. for the transcription.