Matt Hardy And Ethan Page Comment On Fan Reaction To El Hijo Del Vikingo's AEW Debut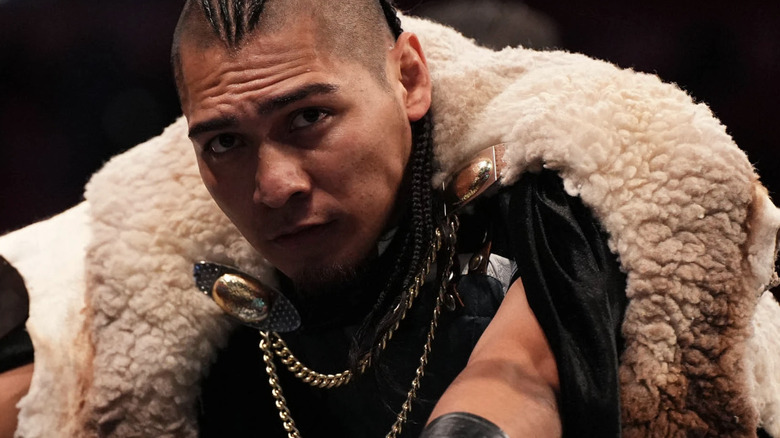 AEW
This past Wednesday on AEW Dynamite, fans were treated to a dream match when Kenny Omega took on AAA Mega Champion El Hijo Del Vikingo. Despite the match being a gymnastic masterpiece, many questioned Tony Khan for booking the match out of nowhere, with no previous appearances from Vikingo in AEW.
Matt Hardy talked about the match on the latest episode of the "Extreme Life of Matt Hardy." Joined by fellow AEW superstar Ethan Page, Hardy said he understood why Khan did what he did, saying he played to the hardcore AEW fan base, making those fans go crazy when they heard about the match being official. Playing devil's advocate, Hardy also questioned if it was a good idea to announce the match the Friday prior, saying a portion of the audience didn't know who Vikingo was.
"I would've loved to have seen a vignette on him, I would've maybe have loved to see him in action, in a match before, and then build to the Kenny match," Hardy said. "That would've been ideal or optimal but we don't live in an optimal world either. TK was ready to get that match on, it could've been the only date that Vikingo had so we made it happen."
Hardy called out the wrestling fans for criticizing the move, stating that Khan is the one making the decisions and paying everybody, so it's his decision to make and he "100%" supported it. As Hardy's guest, Page said even if AEW had shown vignettes of Vikingo, there still would've been people complaining, putting the company in a no-win situation. Despite that last comment from Hardy, Vikingo has already been announced for another match under Khan, working ROH Supercard of Honor on March 31 against Kommander for his AAA Mega Championship.