Mick Foley Sends His Well Wishes To Arn Anderson Following The Death Of His Son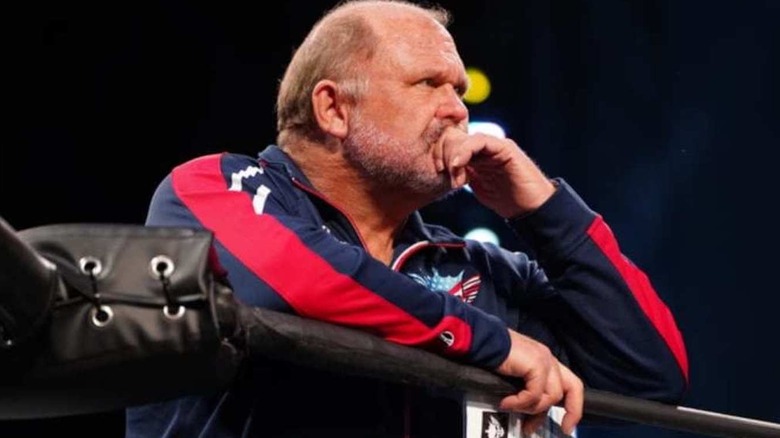 AEW
No matter the circumstances, losing a loved one is always hard. Although, when you're a parent faced with the death of a child, it certainly hits differently. And unfortunately, the legendary Arn Anderson knows what that feels like since his oldest son, Barrett, passed away at age 37 earlier this month.
Since "The Enforcer" shared the news with the world on March 11, 2023, there has been an outpouring of support from the professional wrestling community. For instance, Anderson's All Elite Wrestling colleague Jim Ross extended his condolences via his podcast, "Grillin' JR." Double A's Four Horsemen stablemate "The Nature Boy" Ric Flair also publicly showed his support for his long-time friend since he also knows the hardships of losing a child. Now, another WWE Hall of Famer has offered comfort to the grieving Anderson family.
During the latest episode of "Foley is Pod," Mick Foley delivered his own consolation and shared his memories of Anderson's son. The former WWE Champion recounted the first time that he met Barrett back when his father was in WCW with Foley. As a child, Barrett would play around the ring and sometimes acted as a playmate for a young Dewey Foley when the "Hardcore Legend" and his wife brought him to shows.
Above all, Foley expressed how distraught he is for Arn. Outside of wrestling, "[spending] with Barret was what he lived for" because he is "a good guy and loves his children." Before continuing with the episode, the host said that he can't even imagine what the Anderson family is going through right now.
We here at Wrestling Inc. also send our condolences to Arn, Brock, and the entire Anderson family during this difficult time.