WWE Officially Reveals WrestleMania 39 Set With Help From Pro Skateboarders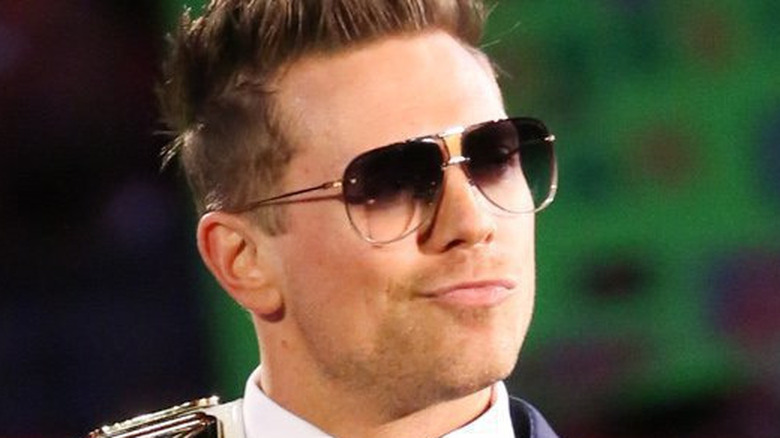 WWE
After receiving some unofficial teasers in the past few days, the WWE Universe can now see the full set of WrestleMania 39. With this year's big event emanating from Hollywood, Corey Graves and Carmella dressed themselves up in some red carpet-worthy attire to formally unveil the grand stage, including its traditionally long entrance ramp. Instead of walking down it though, WWE brought in a trio of professional skateboarders to skate down the platform — Monica Torres, Briana King, and 6-Time X-Games gold medalist Leticia Bufoni. As the three glided down, pyro began to light up the ramp. Once they reached its end, Torres and King veered off to the side, as Bufoni slid up an incline ramp before landing on her feet in the ring, setting off an additional round of pyro from behind the main stage. The full video can be seen below.
🤩 IT'S TIME! 🤩@LeticiaBufoni, @MonicaTorrs & @briiking4 help reveal the #WrestleMania Goes Hollywood set from @SoFiStadium.

Presented by #WWE2K23.@WWEgames pic.twitter.com/fUrrh6ek4W

— WWE (@WWE) March 31, 2023
As the camera panned around SoFi Stadium, it revealed a few more Hollywood-esque features, including an expansive staircase reminiscent of many award shows. The Titantron was also adorned with parody movie posters of various WWE Superstars, such as Asuka, Kevin Owens, and John Cena. At the very top, of course, was the giant golden "WrestleMania" logo glimmering with flashing lights. WrestleMania 39 will also see the return of the original, silver, Hell In A Cell structure.
Night one of WrestleMania 39 kicks off tomorrow night at 8 pm EST, as John Cena challenges Austin Theory for the United States Championship in the show's opener. Serving as the host of WrestleMania is The Miz, who one assumes may make his "massive" presence felt early on as well.