Rhea Ripley On Toni Storm And The Outcasts In AEW: 'I Love It' - Exclusive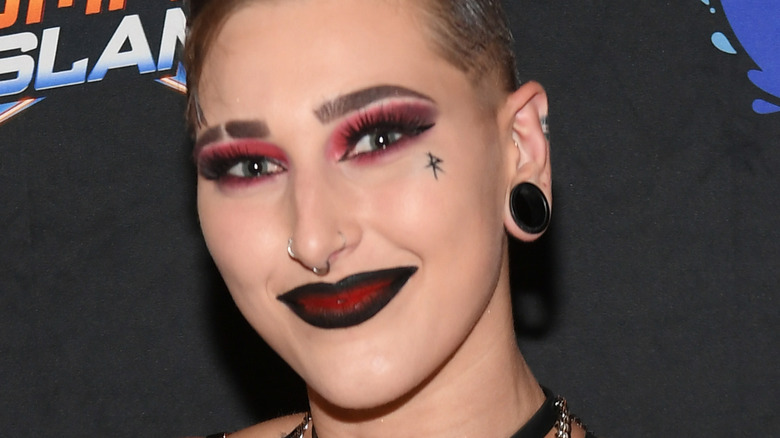 Bryan Steffy/Getty Images
The Outcasts have become a prominent act in AEW programming over the past two months. While the combination of Toni Storm and Saraya didn't initially gel with fans, the addition of Ruby Soho to the group has added a new dynamic to the faction. And it's got the approval of WWE's Rhea Ripley. In an interview with Wrestling Inc. Senior Lead News Editor Miles Schneiderman, Ripley gave her thoughts on the faction of former WWE stars.
"I love it," Ripley told Schneiderman. "I think they're doing really, really well and it looks like they're having a lot of fun as well. And them three together, I could only imagine how wild it's getting. Toni and I, we go back since we were 16 years old in Australia. There's actually footage out there of us wrestling at 16 in Australia as well. We had a triple threat, but I'm proud of her. I'm glad that she is having fun and still wrestling, doing the one thing she loves and good for her. She knew exactly what she wanted and she went for it, so I'm really happy for them."
Ripley's history with Storm even stretches into their time together in "NXT UK," where Ripley became the inaugural "NXT UK" Women's Champion by beating Storm. The two also found themselves on the opposite side of a WarGames match in 2020. Their paths never crossed on the main roster, with Storm departing the company in late 2021 in the midst of a program with Ripley's WrestleMania opponent, Charlotte Flair.
If you use any of the quotes in this article, please credit Wrestling Inc. with an h/t for the transcription.