American Alpha Talk Tag Team Title Match Potentially Main-Eventing WrestleMania, Randy Orton, Mandy Rose, And More! - Exclusive
WWE
It's been more than two years since Chad Gable and Otis joined forces and became Alpha Academy, and the former "Raw" Tag Team Champions have been a stable of WWE's tag team division ever since. Gable's "SHOOOOOSH" and "Ah-thank you" catchphrases are heard weekly on "WWE Raw," and the noted ring technician has seen his matches become appointment viewing, as well — at least, when he's actually wrestling and not trying to drag Otis away from the eternally stylish clutches of Maxxine Dupri and Maximum Male Models. And with WrestleMania upon us, Alpha Academy steps into the ring once again tonight, as they are set to compete in a four-way tag team showcase match against the Street Profits, the Viking Raiders, and Braun Strowman and Ricochet.
Prior to that contest, Wrestling Inc. senior lead news editor Miles Schneiderman caught up with Gable and Otis and asked them about the state of WWE's tag team division, the possibility of a tag team main-eventing Night 1 of WrestleMania, the status of old friends, old enemies, and old love interests, and more!
The state of tag team wrestling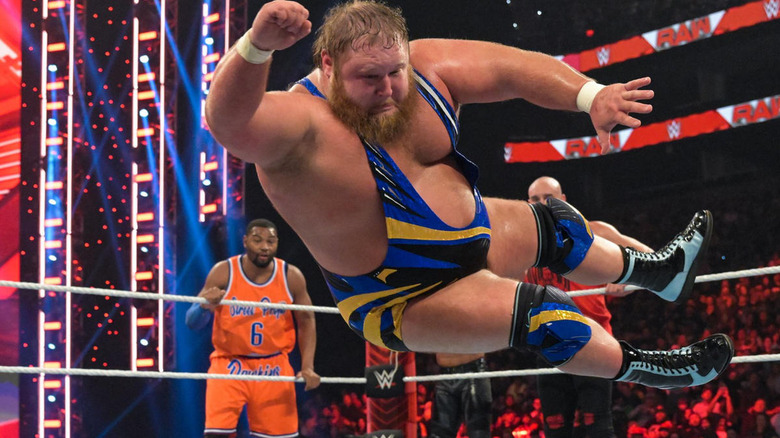 WWE
What do you guys think of the state of tag team wrestling in WWE right now? Especially because you have Kevin [Owens] and Sami [Zayn] teaming up again. A lot of people think the tag title match is the main event [tonight], which has never happened before.
Chad Gable: I mean, what a long way we've come, right? Because even a few years ago, I feel like it'd be hard for people to imagine even thinking that, or even that crossing their mind. So to be a part of that, and I think, not just me, there's been a lot of teams that have been responsible for this. But since 2015, '16, even in "NXT," I think we really kind of spearheaded a resurgence for tag team wrestling. And not just WWE, but professional wrestling as a whole. And to be a part of that ever since then has felt really special, really gratifying.
Otis: Oh, yeah. For me, it's the partners you dance with, too. So, second time with Street Profits, those guys are amazing. Great talent, and really awesome to be with those guys again. These two new teams though, that I've never been in the ring with. Mostly I've been in the ring with Braun, singles competition. I've never actually been in the ring with Ricky either, so it'll be very interesting. Two unknown tag teams from my point of view. But everybody knows, you try to do a high-flying with me, I'm going to stop you. I'm going to use my body mass to stop what you're doing in the air. You're going right back down.
The tag team stars of future WrestleManias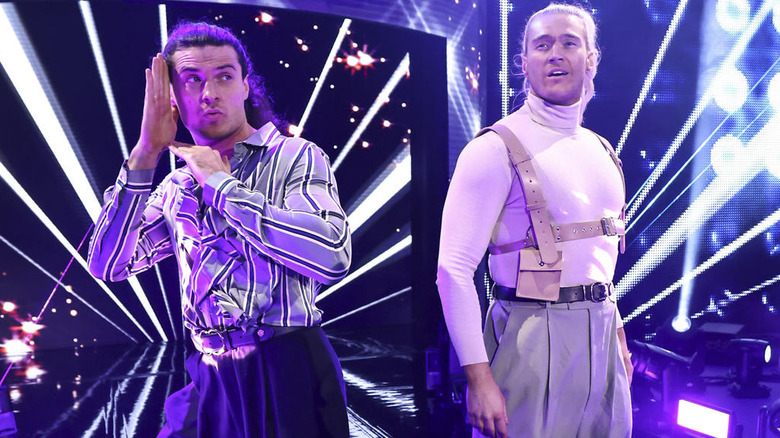 WWE
You mentioned "NXT." Y'all are both from "NXT" originally, [Chad] you were "NXT" Tag Team Champion. If you look at the tag team division in "NXT" right now, is there any team that stands out to you as like, "Oh, those guys are going to be here next year at WrestleMania"?
Otis: I'd say the, was it Brutus and Julius?
The Creeds?
Otis: Creeds. Absolutely. Those guys are studs. I would say, it's the same look, but it's kind of just two badasses together with two different personalities. It always works on camera, too. So you can see those guys coming up pretty damn soon.
Gable: Yeah, them for sure. They stand out. And I've watched them work a lot and talked to them privately about the business and things they can work on. But they're so good. They're so unique to watch and they just catch your eye. They've got that thing stylistically that you want, where just watching them is very unique, to watch them work. And then you look at a team like Pretty Deadly, too, down there. Man, they blow my mind, too. I can't take my eyes off them. So they're a couple different teams that if they get called up, I couldn't wait to work with them. They'd be awesome.
I think it was a couple of weeks ago, they were cracking me up just by saying the words "stand and deliver" a bunch of different times.
Gable: Yeah, man. They just get it, dude. They're so unique to watch, and they're great workers and the type of guys you want to be in there with, because they would just give you something to play off of so much. It's awesome.
Otis: They wear the same workout clothing, too. Saw them in the gym yesterday. They walked in, went in the bathroom together, came back out, had the exact shirt and pants on. Yes. Very tag team-ish.
Moving away from comedy?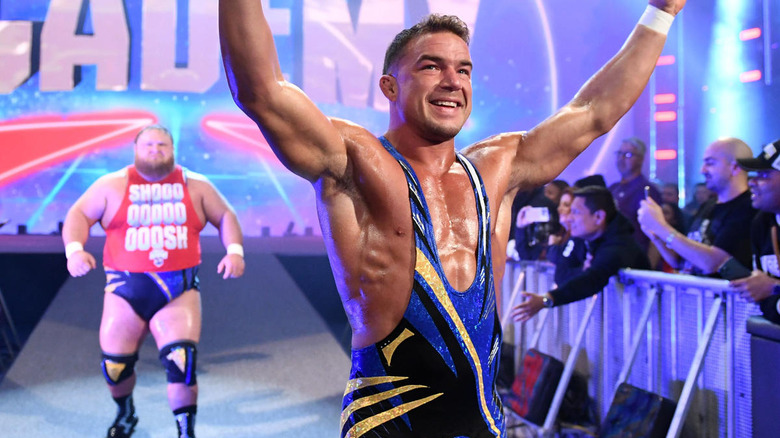 WWE
Chad, you're in an interesting role right now, because obviously you've been doing sort of more of a comedy, funny stuff recently. But the way that I see people talk about you, especially online, is very much like, "He goes out there every week and just has the best match every time" ... Is there any part of you that is kind of ready to move into something a little bit less comedy-oriented?
Gable: I find it challenging, in a good way, to be able to play this character that is kind of goofy, a little bit comical, but then be asked to go out and have these super, kind of high-level technical matches with some of our top guys. So I'm not in a hurry to be like, "let's get this over with." Because for me, it's a challenge in a good way. To be able to present myself as a credible threat while also being a funny guy, I guess some people would say, is almost rewarding. To have people talk about you in a way that's like, "Man, he's such a goof. He's such a character. But every time the bell rings, I believe he can win. He's credible." So to me that's a compliment.
Absent friends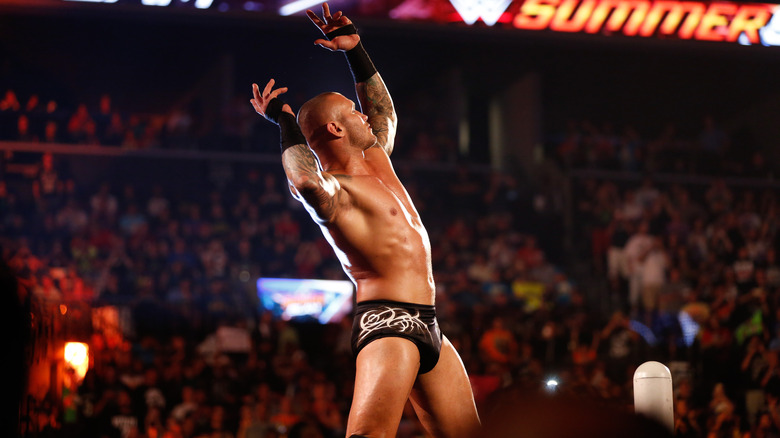 Jp Yim/Getty Images
You mentioned last year you were with RK-Bro at WrestleMania. A lot of rumors right now about Randy maybe coming back, maybe being on his way back. Do you think we're going to see him soon?
Otis: I hope so.
Gable: I would love that. Because before he finishes up, I would love to have a lengthy singles program with Randy. It's like a dream of mine. I think I may have even expressed that to him privately. It's like, "Please man, don't hang 'em up. As long as you're able to work. I mean, health comes first, but don't hang 'em up before I get a chance to have a run with you." Because he's like all-time, one of my favorites that I've ever stepped in the ring with. No one compares, dude. It's unbelievable.
Otis, at WrestleMania previously, you had a program that heavily involved Mandy Rose, who's obviously not here this weekend, no longer with the company. I was wondering, what do you think about her and the circumstances under which she left?
Otis: Yeah, so it was very unclear, the circumstances. When I found out she got let go, I just texted her and said, "Hey." I was kind of meaningful, like, "Hey, miss you," and all that stuff ... But for me it's just like the brother looking after the sister. I just want to make sure she's safe, make sure everything's good. What she's doing privately, I don't know. But for me, it's just like she knows what she's doing. She's a very beautiful woman and I just wish the best for her. So yeah, we had great fun times working with her.
What's [Otis' former tag team partner] Tucker doing these days, by the way?
Otis: He cut his hair and he's a big old family man now. Yeah.
Oh, fair enough.
Otis: Yeah. He's doing great. He said he's got the two kids now. Stormy's getting I think, one or two, I can't remember which one, the age. But yeah, they're doing great.