Sami Zayn Compares WWE's Bloodline Storyline To The Sopranos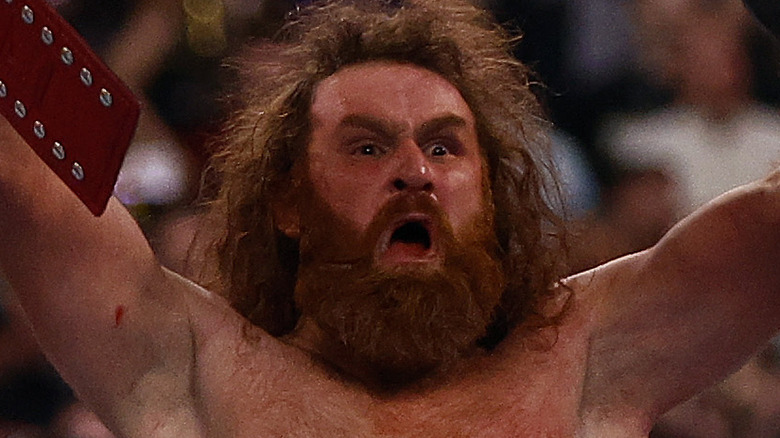 Ronald Martinez/Getty Images
WWE WrestleMania 39 Night 1 capped off in a major way when Sami Zayn and Kevin Owens defeated The Usos to win the Undisputed WWE Tag Team Championship. It was a historical moment that saw the tag titles headline a WrestleMania for the first time while also serving as the culmination of a near-year-long story involving Zayn and The Usos.
During the WrestleMania Saturday Press Conference, Zayn reflected on how special it has been to participate in a long-term storyline as he recalled there being Hall of Fame talent that never had the opportunity to work a story like they did with the amount of depth and level of performances.
"One of the things that I take a lot of pride in with this story over the past year is that I do think it transcended the classical kind of wrestling storyline, for sure," Zayn said. "I actually think because of its effectiveness, I think it could be a glimpse of what storylines going forward, if not achieve, will at least aspire to, in my opinion."
Zayn added, "Much like you saw with television, how it kind of evolved to the golden age of television in the 2000s with HBO and things like that and more complex and layered characters, so to do this story — if I may be so bold as to offer a comparison — it's almost like 'The Sopranos'. It is to WWE what 'The Sopranos' was to television, if I may be so bold as to make that comparison."
The bold claim may not be far off as WWE announcer Michael Cole previously said The Bloodline story was worthy of an Emmy — an award The Sopranos won 21 times during its six-season run.
If you use any quotes from this article, please credit WWE with a h/t to Wrestling Inc. for the transcription.