The Judgment Day Takes Out Bad Bunny On WWE Raw After WrestleMania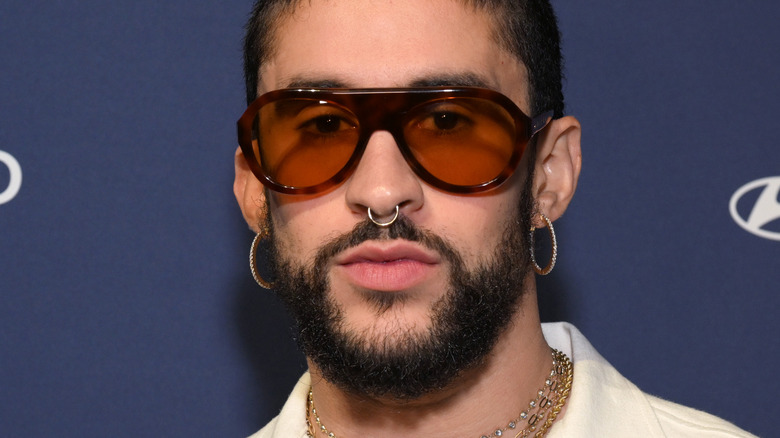 Michael Kovac/Getty Images
Bad Bunny is no stranger to a WWE ring, even if the multi-platinum recording artist only has two matches under his belt. Yet the "Raw" after WrestleMania can often be full of surprises, which brings us to The Judgment Day. In the closing stages of Rey Mysterio's match against Austin Theory Monday night, his son Dominik got involved, ultimately costing his father the match. Damien Priest was there too, of course, as Dom made his way ringside to greet Bad Bunny, who ultimately helped Rey Saturday by preventing Dom from using a chain during the father-son showdown.
The two came to blows, with Bad Bunny knocking Dom to the floor. That's when Priest, who teamed with Bunny at WrestleMania 37 to defeat The Miz and John Morrison, got involved. At first, he knocked him down, but that was never going to be enough. He followed that up by viciously choke-slamming Bunny through the announcer's table, which resulted in a worried Corey Graves, a regretful Rey Mysterio, and an irate Adam Pearce.
In any case, it makes sense that Bad Bunny would start getting more involved with Backlash right around the corner. The event is scheduled for next month in Bunny's native Puerto Rico, where he'll also be hosting. A match very well may be in the cards between these four. After all, following WrestleMania Saturday, Chief Content Officer Paul "Triple H" Levesque indicated that he just needs to call, saying, "I will say this about Bad Bunny. Puerto Rico is coming. If he wants to be in that ring, he has my number."
After winning his in-ring debut at WrestleMania 37, Bunny returned in the men's Royal Rumble match in 2022, picked up an elimination, ate an F-5 from Brock Lesnar, and made it to the final five.