Athena Warns That The Wrestling World Is Not Ready For Trinity Fatu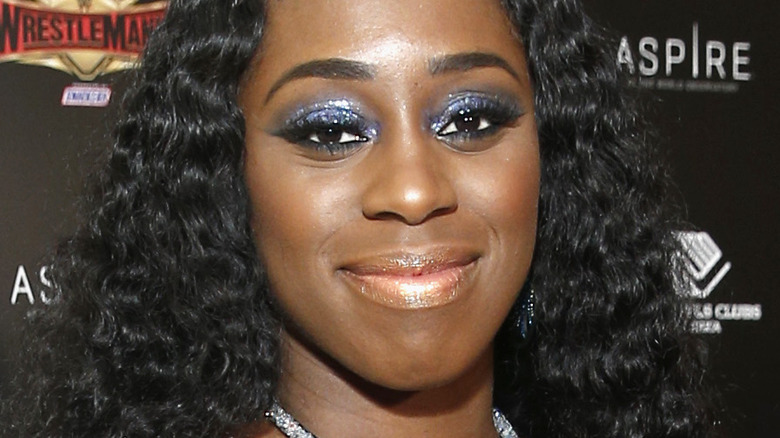 Brian Ach/Getty Images
Athena (formerly Ember Moon) knows plenty about Trinity Fatu (formerly Naomi). They crossed paths in WWE, and have become close friends outside of the ring. And last Friday night at ROH Supercard of Honor, the former "WWE SmackDown" Women's Champion was in attendance to take in the show, which featured her friend defending the ROH Women's World Championship. Of course, this led to further speculation concerning Fatu's wrestling future. Athena spoke to that and their bond this week on "The Sessions."
"I love Trin, first off," she said. "Trin and I didn't get to have a lot of interactions in WWE." Instead, they were often kept to multi-woman matches. Now the possibility exists to change that, but it all comes back to the bond between Athena and Fatu. "After I got released, she like stayed in touch, which is very important to me," she continued. "We talk almost every day. When we both found out we were in town, we were like 'We gotta see each other!'" she explained, ultimately admitting that she invited Fatu to the show.
Once the match was over, however, Fatu flipped a switch. "I remember being post-match and I raised the belt up and I was like 'Yeah!' and I look at Trin and she's mean-mugging me!" Now, if nothing else, she wants that match they were never able to get in WWE. But, it comes with a warning. "She's one of those people that I need that match with," Athena stated, suggesting that it doesn't have to be in ROH. But wherever it is, she just wants what's best for Fatu. And she also wants the best version of her. "I wanna see what she can do because, this is coming from someone that shared a ring with her ... y'all ain't ready for Trinity. You really aren't."
If you use any quotes from this article, please credit "The Sessions" with a h/t to Wrestling Inc. for the transcription.