George Kittle Wants To Get A Wrestling Ring Installed In His House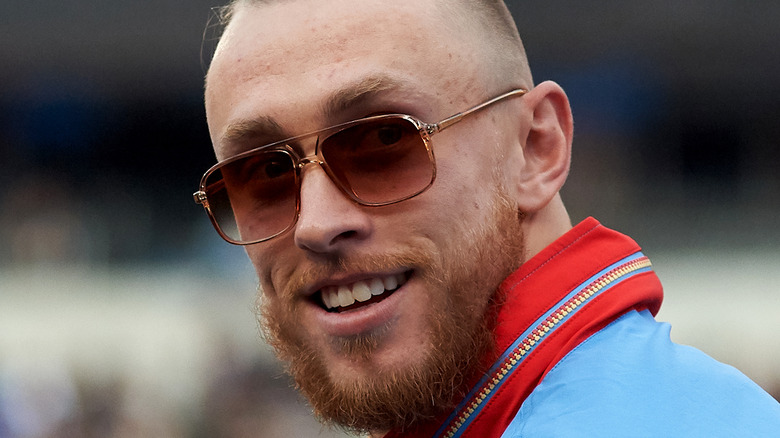 Unique Nicole/Getty Images
NFL star George Kittle may not be ready to quit his day job quite yet, but the 29-year-old San Francisco 49ers tight end isn't entirely ruling out more WWE appearances in the future. At WrestleMania 39, The Miz — who was acting as host for the two-night event — was blindsided by the return of sometimes-commentator, sometimes-wrestler Pat McAfee. 
The former Indianapolis Colts punter proceeded to defeat The Miz, needing just over three minutes to do so. Yet, he couldn't have done it without the help of Kittle, who was positioned ringside. Stopping by "The Rich Eisen Show" following WrestleMania 39, he broke down what brought him to the event in the first place.
"I am about five minutes from making a phone call to get a wrestling ring installed at my house in a barn," Kittle said. "So, I'm looking forward to any opportunity. Mr. H [Triple H] has my number, that's not a phone call I'll ever ignore."
Midway through the match during WrestleMania Saturday, Kittle hopped the barricade and clotheslined The Miz, giving McAfee the opening he needed to win the match. Of course, this isn't his first foray into either WWE or wrestling as a whole. The tight end is a big fan of professional wrestling in general, and in 2018 attended WWE TLC following his football game that afternoon. He's also friends with Bayley, who is from San Jose, California, and prides herself on representing the Bay Area. 
If WWE comes calling, he'll be more than happy to answer. "I'm always open to participating in fun, violent events," Kittle added.
If you use any quotes from this article, please credit "The Rich Eisen Show" with a h/t to Wrestling Inc. for the transcription.