Logan Paul Calls KSI-Prime Bottle Costume One Of The 'Coolest Product Integrations' WWE Has Ever Had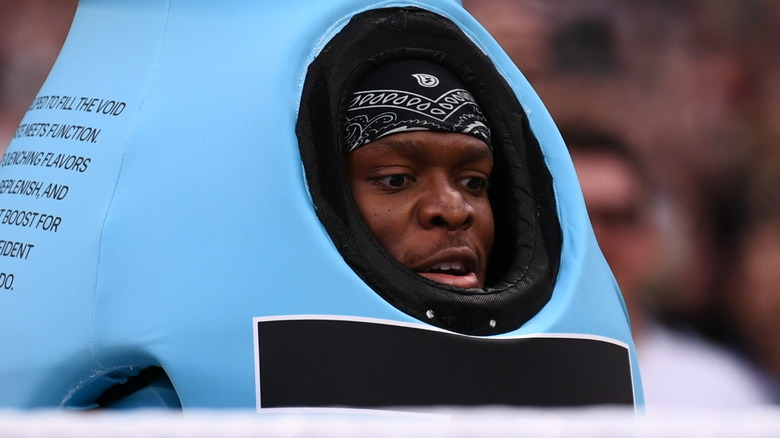 WWE
Throughout WWE's history, they have often featured product placement or sponsorship opportunities. From ICOPRO, Zubaz, and Karate Fighters to Mountain Dew Pitch Black, Snickers, and Cinnamon Toast Crunch, the company has integrated different brands into its programming. 
One of the most memorable sponsored tie-ins in recent times happened at this year's WrestleMania, courtesy of Logan Paul and Prime Hydration. However, the controversial influencer wasn't sure if they would be able to pull it off.
"I'm biased," said Paul on a recent episode of his "ImPAULsive" podcast. "[But it was] probably one of the coolest product integrations WWE has ever had. They are the best organization in the world for creativity and for Prime, we're pretty innovative with marketing. We are disruptors and so we approach marketing the same way. When we came up with this idea to jump onto the Prime bottle where [KSI] would be inside it and have a surprise reveal, I didn't think it was going to get approved."
Paul's camp was initially concerned that WWE wouldn't allow a non-performer like KSI to go through a table. But after all parties found a way to do it safely, they pulled it all together to create an unforgettable moment in WrestleMania history.
When Paul approached the ring for his match with Seth "Freakin" Rollins at "The Showcase of the Immortals" in Hollywood, he ziplined to the stage and joined a Prime Hydration mascot, his sports and energy drink brand founded with fellow social media star KSI. Later in the match, it was revealed that KSI was in the suit all along. But following the revelation, "The Drip God" outsmarted his opponent and his companion in a way that found "The Maverick" delivering an elbow drop to KSI through a commentary table.