Seth Rollins Begrudgingly Respects Logan Paul After Their WrestleMania 39 Match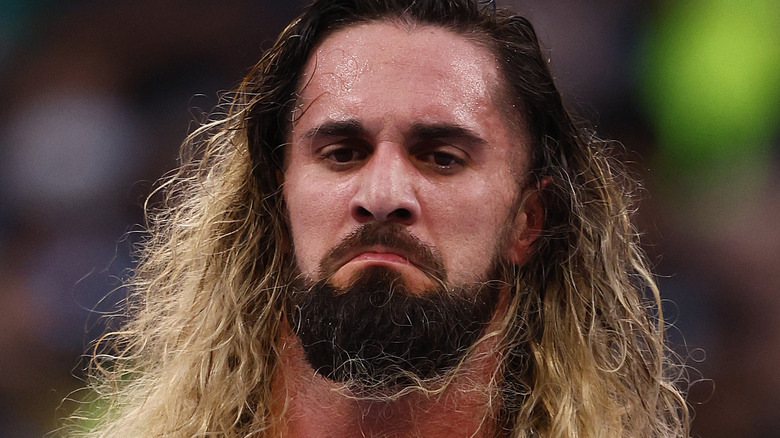 Ronald Martinez/Getty Images
He might still harbor some distaste for him, but Seth Rollins admits that Logan Paul proved himself to be a legitimate competitor last night. After months of tension, Rollins and Paul finally met inside the squared circle to settle their differences on WWE's grandest stage. In the third contest of WrestleMania Night 1, the two unloaded an arsenal of high-flying offense, but in the end, "The Visionary" took home the victory with a thunderous stomp.
After his win, Rollins spoke with The Bump's Kayla Braxton to discuss his thoughts on the match itself, and of course, his opponent — Logan Paul. While Rollins felt "exhausted" after their clash, it came with good reason. "[The] kid proved something to me out there tonight...I don't always agree with everything that he does, but he's got something," Rollins said. "He took it to me out there tonight, surprised me on more than one occasion. And he's got a hell of a right hand."
As Rollins acknowledged his growing respect for the internet sensation, he brought up another interesting point. WrestleMania 39 also marked the end of Paul's deal with WWE. As of now, there has been no word of any attempts to renew Paul's contract, but Rollins suggests that WWE might benefit from keeping him around. "He said they would be stupid if they didn't re-sign him, and it pains me to say, but I might agree a little bit."
While Rollins maintains he'll never be the biggest fan of Paul, their battle inside SoFi Stadium has slightly shifted his perspective. "We're never going to go hang out at a Dave and Busters or anything like that, but he can go," Rollins said.