WWE SmackDown, AEW Rampage, Battle Of The Belts All See Rise In Viewership
Coming off of WWE's loaded WrestleMania week and a very newsworthy episode of "AEW Dynamite," all three shows broadcast by the "big two" promotions in the United States posted promising numbers in the Nielsen ratings on Friday night according to the reporting at Wrestlenomics and ShowbuzzDaily.
"WWE SmackDown," in its post-WrestleMania edition, was in the lead as usual, averaging 2,468,000 viewers overall across its two hours, approximately 900,000 of which were in the "key demo" most prized by advertisers, adults aged 18 to 49. The latter figure translates to a 0.69 rating in P18-49, making it the number one show on television in the key demo for the day among cable originals and broadcast prime time. The show was up four percent in both metrics week over week, and outside of the Christmas 2020 episode that had an NFL lead-in, it posted the show's best number in P18-49 rating since the first "no fans" show at the start of the COVID-19 pandemic.
Big Ratings Gains For AEW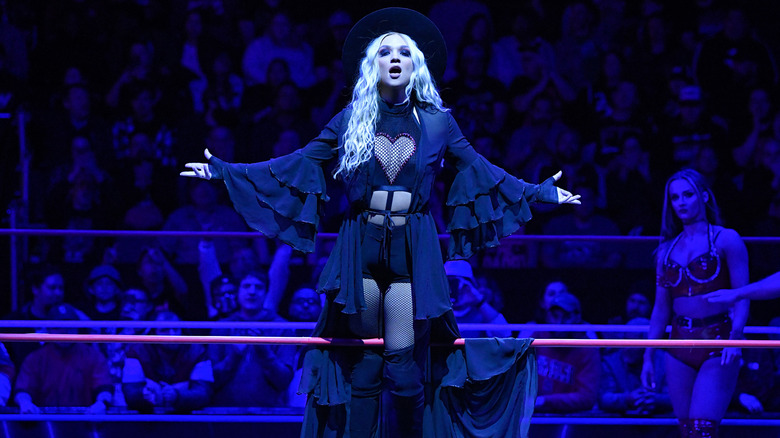 AEW
Next up on TNT, the live episode of "AEW Rampage" showed noticeable growth, averaging 503,000 viewers overall across its 60 minutes, approximately 222,000 of which were in the key demo, translating to a 0.17 rating in P18-49 that put it in sixth place among the day's cable originals. Not only were those the show's best numbers in months but they were, respectively, increases of 48 percent and 76 percent over the prior week.
As for the live Battle of the Belts VI special that immediately followed, it averaged 415,000 viewers across its hour, approximately 183,000 of which were in the key demo for a 0.14 rating in P18-49 and a twelfth place ranking on the ShowbuzzDaily charts. That's the strongest showing yet for the Belts specials in the live Friday night time slot.
The Wrestlenomics Patreon page tracks the median viewership on a rolling four-week basis. The biggest percentage shift was for "Rampage" in the female viewers aged 12 to 34 demo at 71 percent over the median for a show that closed with Julia Hart versus Anna Jay.