Sting Returns To AEW Dynamite, Name Drops Cody Rhodes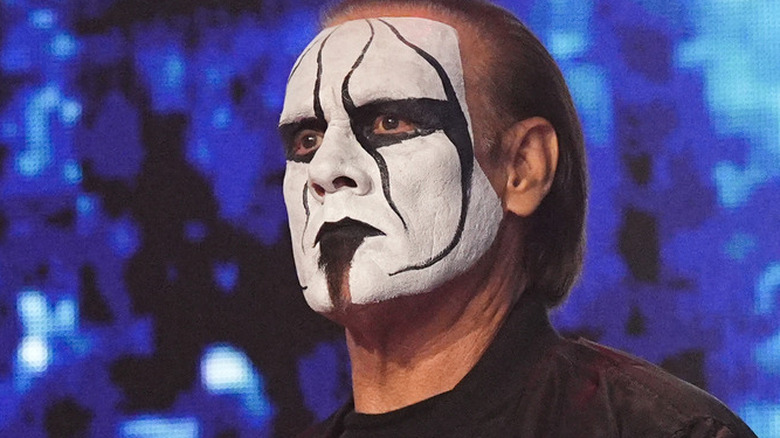 AEW
On Wednesday night's "AEW Dynamite" in Milwaukee, Wisconsin, Sting returned after a few weeks off of TV and cut his first promo in months, injecting himself into Darby Allin's ongoing issue with MJF that is seemingly pointing to the much-ballyhooed "four pillars four-way" match. That wasn't much of a surprise, but what did come out of left field was Sting bringing up that MJF's original big booster in the company, Cody Rhodes, hasn't been there in over a year.
"Stop talking about this 'Cody daycare' stuff, OK?" he asked MJF, immediately noticing a reaction on the AEW World Champion's face. "I said, 'Cody,' didn't I? Oh! I said, 'Cody!' And the truth hurts, doesn't it, Max? Because you had a cheerleader, you had a support system in Cody, and I am a support system for Darby. And a young 'surfer Sting' had a support system, too, under the name Ric Flair."
After shouting out Flair, Sting also referred to his transition to being a member of the nWo Wolfpac in WCW, singling out Kevin Nash and the late Scott Hall as further moral support, looking to the sky when he mentioned Hall.
"Let's face it, I'm just gonna be real with everybody here, including you," Sting continued. "'Showtime' is almost over. But 'showtime' is just starting for this young man right here, Darby Allin! Max, mark my words: Darby Allin will become AEW's World Heavyweight Champion, I promise you!"
Sting then grabbed MJF in an aggressive hug-headlock hybrid as he punctuated his promo.
"It. Is. Showtime!"
The "four pillars four-way" between MJF, Allin, Sammy Guevara, and "Jungle Boy" Jack Perry has not officially been announced yet but is expected to take place at next month's Double or Nothing pay-per-view event in Las Vegas, Nevada.