Jeff Jarrett Adds His Voice To The Detractors Of Cody Rhodes' WWE WrestleMania Loss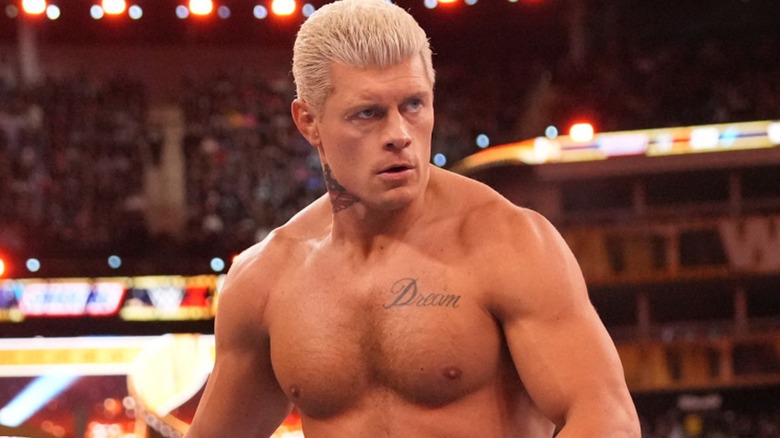 WWE
Cody Rhodes' loss to Roman Reigns at WrestleMania 39 has created a massive rift down the center of professional wrestling. While some believe Reigns' victory was the correct call to make, there are others adamant that "The American Nightmare" would've benefited from "finishing his story" at WrestleMania. Now, another prominent voice has hopped aboard the pro-Rhodes train. On a recent episode of "My World With Jeff Jarrett," the WWE Hall of Famer shared his belief that Rhodes' story of triumph had a higher upside than Reigns' achievement of crossing the 1,000 day milestone as champion that is rapidly approaching.
"There's something about a gut feeling and sometimes promoters go with their gut. My gut still told me it would have been the right move," explained Jarrett. "I don't think it would have hurt Roman. I don't think it hurt The Bloodline. I don't think if we wait a year, there's going to be that many more eyeballs, there's going to be that much exponentially grown business," he continued. "All the 'We didn't do it this year and we're going to do it next year because of X, Y, and Z,' that's still [to be determined]. My gut tells me they missed the opportunity."
Jarrett later added to his case as to why Rhodes should have won at WrestleMania 39, noting that "without risk, there's no reward." And according to him, the scene of Rhodes standing tall outweighs the direction of keeping the title strapped to Reigns, even if that decision had been made weeks in advance.