MIRAI Wins STARDOM's Cinderella Tournament For The Second Year In A Row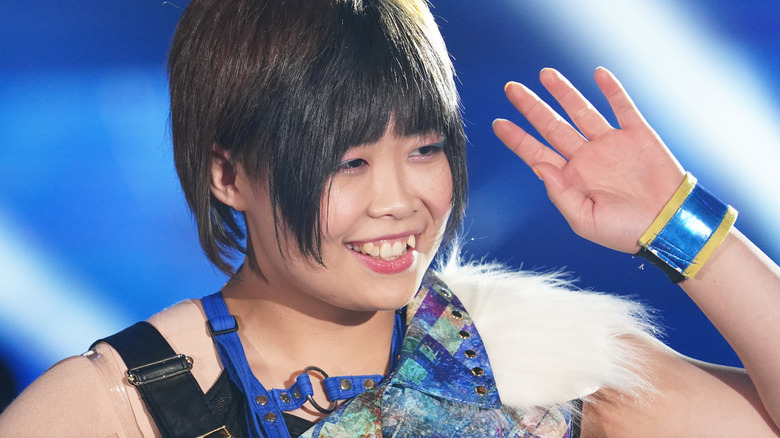 Etsuo Hara/Getty Images
This weekend, STARDOM presented the last event of this year's Cinderella Tournament in which MIRAI of God's Eye won her second Cinderella Tournament in a row earlier today.
STARDOM's annual single-elimination tournament began on March 26 and featured 36 women vying for victory. In the weeks that followed, many favorites were eliminated from the tournament, resulting in four unlikely finalists headlining this weekend's event. On the show, Mai Sakurai defeated her former tag team partner Waka Tsukiyama to advance. Then, MIRAI overcame her current teammate, Ami Sourei, to find herself in her second Cinderella final in a row. When MIRAI and Mai Sakurai met later on in the night to decide this year's tournament winner, the God's Eye member reigned supreme when she debuted a diving crossbody to overcome her fellow rising star.
While the Cinderella Tournament winner usually decides who she wants to challenge during her ceremony, that was not the case for this year's tournament. Due to the massive STARDOM All-Star Grand Queendom event taking place on April 23, MIRAI opted to hold out on announcing what "wish" of hers she'd like to be granted in exchange for winning the tournament. Furthermore, the "Ash-Covered Cinderella" will have her hands full on April 23 as she will team with Sourei to challenge 7Upp for the Goddess of Stardom Championships.
With her win in the Cinderella Tournament, MIRAI became the first woman since Mayu Iwatani to win the event twice, with Iwatani's wins coming in the first two tournaments in 2015 and 2016. As for this year, Iwatani had her own monumental moment at the Cinderella Finals, getting attacked by Mercedes Mone ahead of their IWGP Women's Championship match on April 23.