Steve Austin On Cody Rhodes' WWE WrestleMania Loss: 'I Wouldn't Have Changed A Thing'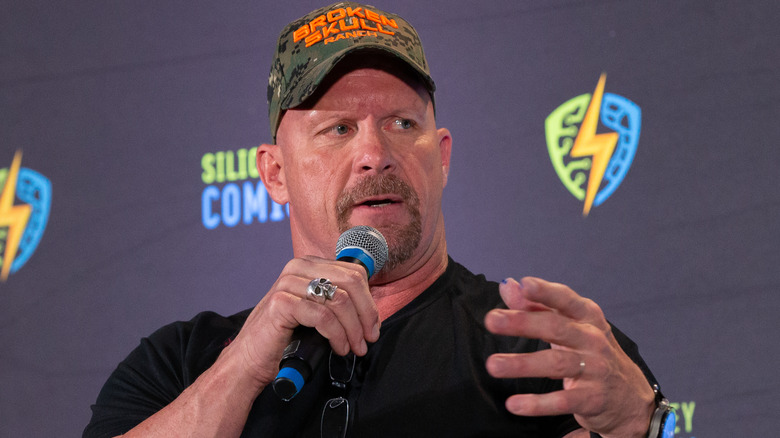 Bill Watters/Getty Images
Austin 3:16 says the controversial finish to WrestleMania 39 was "definitely the right call." While speaking with Sports Illustrated, "Stone Cold" Steve Austin shared his thoughts about the divisive end to WrestleMania 39, which saw Undisputed WWE Universal Champion Roman Reigns successfully defend his titles against Cody Rhodes after Bloodline member Solo Sikoa interfered while the referee was distracted. The finish, which wasn't expected and shocked many, left the professional wrestling world debating whether WWE made the right call in keeping the titles on Reigns, who is closing in on 1,000 days as Universal Champion.
"To me, they got it just right," Austin declared. "I loved the finish. I loved all of it. Roman is so good right now. The story was there — Cody coming back from injury, coming back into the fold after he left from AEW, and putting himself in the position he's in now, overcoming all this adversity as part of one of the most famous wrestling families that's ever been in the business, and trying to finish the story against Roman."
Austin continued: "I watched both nights of WrestleMania 39 very intently. To me, you can't take that belt off Roman right now. You want to get it to Cody somehow, someway, some time — but now's not the time." Austin said he texted "a couple people who were involved" in the match to tell them it was "magnificent." "They built it perfectly," he said. "I told my wife, 'I think they're going 30 [minutes].' They ended up going just over 34, and it was a classic. I loved it, and I wouldn't have changed a thing."