Bill Apter Hopes Bret Hart Watched WWE Raw Match Between Solo Sikoa And Rey Mysterio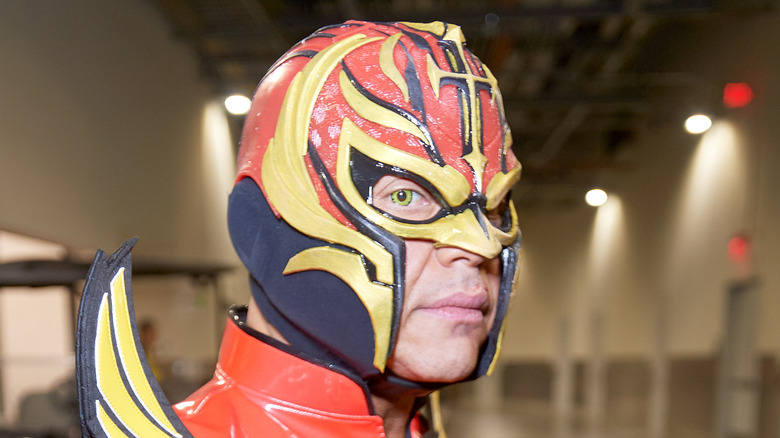 Unique Nicole/Getty Images
One doesn't have to search for too long to find two-time WWE Hall of Famer Bret Hart lamenting the state of today's professional wrestling. Even still, every once in a while there's bound to be a match that catches the attention of the old guard, and Sportskeeda's Bill Apter believes that the bout between Solo Sikoa and Rey Mysterio this past Monday on "WWE Raw" would've done just that. While Hart in the past has talked about wrestlers being unsafe or too fast, waiting too long to hit their spots, or the fact that plenty of them slap their legs while executing superkicks, Apter couldn't find any of that in the match between The Bloodline's enforcer and 2023 WWE Hall of Famer.
"Well on 'Monday Night Raw' this past week, I saw the opposite of that," Apter said on "WrestleBinge by Sportskeeda," "and it was Solo Sikoa against Rey Mysterio ... Bret Hart I hope if you're watching this, I hope you get to that this match because that defies everything you said last week."
Apter pointed to how quickly Mysterio and Sikoa delivered their offense to one another throughout the contest, one that lasted just over 12 minutes. There were no delays during their top rope spots. There was no leg-slapping on knee lifts. And in between all of the back-and-forth, there was hardly a moment to breathe. "It was boom, boom, boom," Apter said. "There was no dead spots at all." Teddy Long echoed the sentiment, praising both Sikoa and Mysterio while stressing that matches are always about timing.
If you use any quotes from this article, please credit "WrestleBinge by Sportskeeda" with a h/t to Wrestling Inc. for the transcription.