Ted DiBiase Makes First Public Comment Following His Son's Indictment In Deleted Tweet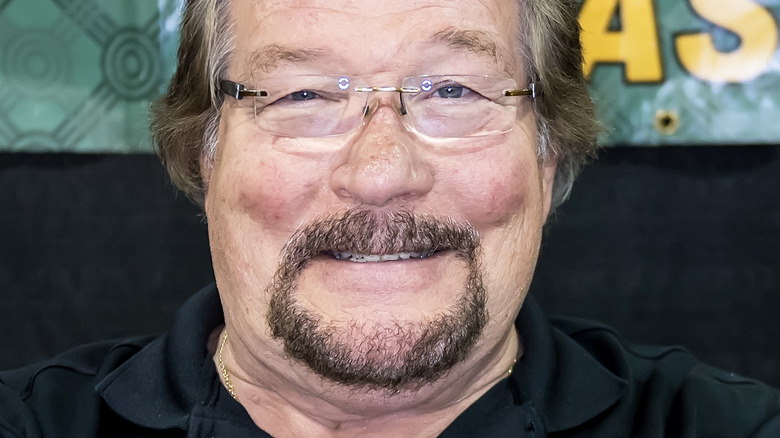 Gilbert Carrasquillo/Getty Images
Following his son's indictment on multiple fraud and financial-related charges, Ted DiBiase Sr. has released his first public statement on the matter in a now-deleted Twitter post. Earlier today, "The Million Dollar Man" shared an also now-deleted pre-scheduled Twitter post reflecting back on one of the classic moments in his professional wrestling career. Unfortunately, that tweet would be seen by many as highly untimely, due to news breaking yesterday that his son, Ted DiBiase Jr., had been arrested on various charges of conspiracy, theft, wire fraud, and money laundering in the state of Mississippi. DiBiase Sr. has since apologized for his ill-timed post and issued a comment on the controversy surrounding his family.
"Since my time is limited due to travel requirements the posts are approved by me ahead of time and scheduled for a later date," DiBiase Sr. wrote. "Our family is currently navigating a difficult season and while we cannot speak to these events publicly, we appreciate your prayers during this time. Please know that I truly appreciate the love and support from the fans! You have been a part of our family for more than 40 years, and for that I could never thank you enough."
While DiBiase Jr. awaits his trial, and some potentially stiff penalties if convicted, DiBiase Sr. will soon begin a new project that's bound to stir up even more conversations. Next month, the WWE Hall of Famer will launch his own podcast on AdFreeShows entitled "Everybody's Got A Pod." One of DiBiase Sr.'s other sons, Brett, has also been under some scrutiny lately, as he pleaded guilty to one count of conspiracy to defraud the United States after making false welfare claims.