Tam Nakano Defeats Giulia For The World Of Stardom Championship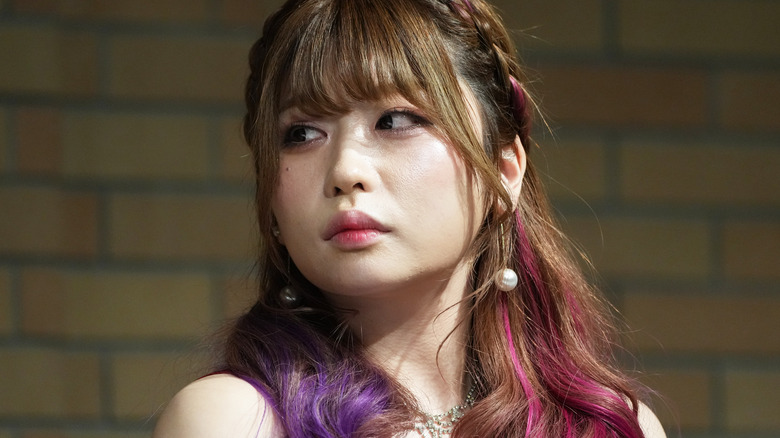 Etsuo Hara/Getty Images
Time stood still at the end of STARDOM All-Star Grand Queendom when Tam Nakano overcame her sworn enemy, Guilia, and became the World of Stardom Champion for the very first time. In their sixth singles war against one another, Tam tied up the series at an even 3-3 when she hit the Violet Screwdriver in the 23rd minute of action to secure the victory.
The championship win comes after a period full of hardship for Nakano, who has struggled to build momentum since she and Natsupoi lost the Goddesses of Stardom Tag Team Championships last December to Nanae Takahashi and Yuu. Even more recently, Tam had to deal with the heartache of losing two members of her beloved faction when both Mina Shirakawa and Waka Tsukiyama left Cosmic Angels to become full-time members of Club Venus last weekend. Just when it seemed the Cosmic Angels leader had hit rock bottom, Tam's championship win earlier today put her name amongst giants as the fifth person to win both the Wonder of Stardom Championship and World of Stardom Championship throughout their career.
For Giulia, this loss could be considered by many to be premature as a figurehead of modern-day STARDOM. Her victory over Syuri last December came after a three-year character arc that was consistently at the center of STARDOM's focus, making it surreal to some that her time holding the championship was so short. Breaking the Red Belt trend dating back to 2019 of year-long title reigns, Giulia's 115 days as World of Stardom Champion currently stands as the third-shortest reign in the title's history. In that time, Giulia faced two outsiders from her past in title defenses, defeating Suzu Suzuki in January and going to a controversial double-count-out finish against Maya Yukihi last month.