Bully Ray And Tommy Dreamer Comment On Jeff Hardy's Return Promo On AEW Rampage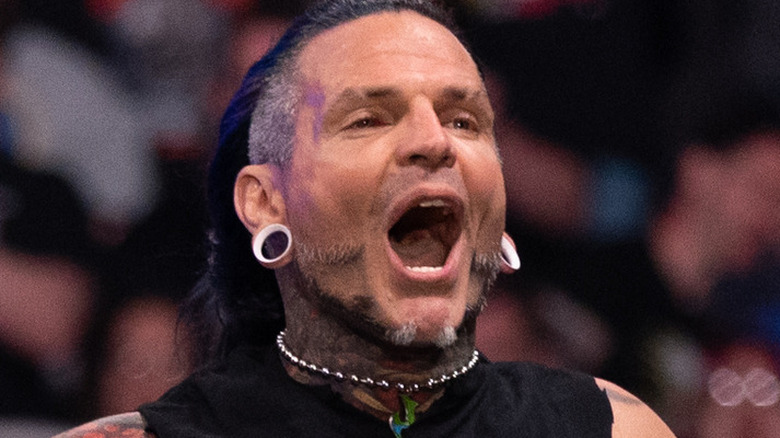 AEW
It's now been several weeks since Jeff Hardy returned to AEW following his 2022 DUI arrest, and this past Saturday on "AEW Rampage," the 45-year-old veteran assured fans that he was going to "retire from screwing up," intending on finishing out his career on a high note. Following this promo, "Busted Open Radio" hosts Bully Ray and Tommy Dreamer spent some time on today's show discussing Hardy's comeback.
"I do feel it was real," Dreamer said. "Jeff seems to be in the best place, and I want nothing but success for Jeff, Jeff's family, [and] Jeff's fans." The Impact Wrestling star pointed out that fans have seen the highs and lows both Matt and Jeff Hardy have gone through throughout their careers, and shared his belief that Jeff fully meant every word he said on "Rampage."
"I hope Jeff stays clean, [and] stays away from whatever addiction or demon that he had," Ray said. "And that he is safe to himself [and] his family. He's got a great family." Ray went on to state that while it's understandable for people to make mistakes, it's true that Hardy made his mistake by getting behind the wheel while intoxicated, putting others in danger, and he needs to take more care moving forward.
While Dreamer states that he wouldn't necessarily put the AEW World Tag Team Championship on the Hardy brothers anytime soon, he does see a prominent spot for them on the company's upcoming All In show at Wembley Stadium in the United Kingdom. As the biggest show in AEW's four-year history, a noteworthy place on the card for the Hardys will undeniably help drum up interest along with the many other attractions likely to take place at the event.