Decision To Introduce Second WWE World Title Came From Triple H, Not Vince McMahon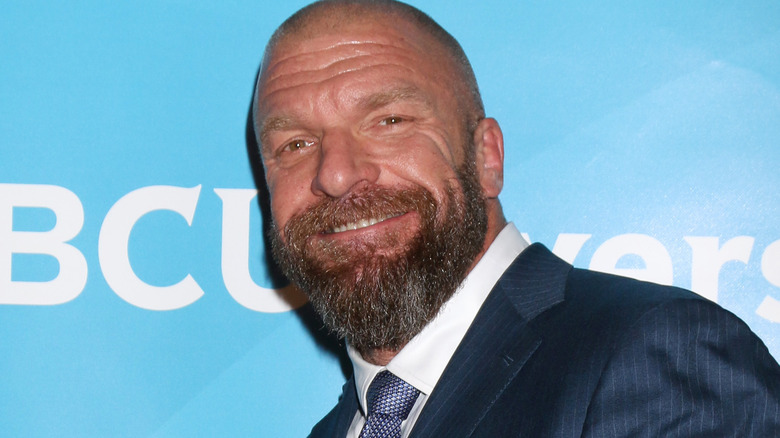 Kathy Hutchins/Shutterstock
Wrestling fans have begun adopting a new go-to line anytime they come across something in WWE that either they don't like, didn't want, or don't understand — "Well, clearly that was a Vince McMahon decision." Such was the case last night for some with the news of the WWE World Heavyweight Championship being resurrected. But, according to Sports Illustrated, those fans don't have a leg to stand on here as McMahon was not involved in the decision to add a third world title into the mix.
The announcement of the new title, which will have its inaugural champion crowned at Night of Champions in Saudi Arabia on May 27, was a decision made by WWE Chief Content Officer Paul "Triple H" Levesque. He's keen on the idea of each brand having its own champion. And with Reigns firmly established as the Undisputed WWE Universal Champion and likely staying on "WWE SmackDown" with those unified belts through the draft, that opened the door for "WWE Raw" to get its own title — a set-up Triple H prefers. 
Levesque has overseen the creative direction of WWE since Vince McMahon retired from the company in 2022. But as McMahon returned to the boardroom in January, so too did his opinions on the company's creative direction, which has been responsible for several instances of changes being made. Such a dynamic led many to assume that one of McMahon's calls was the new championship.
Triple H's history with the World Heavyweight Championship is long and storied, as he was the inaugural champion of the first World Heavyweight Championship on "Raw" in 2002. The new World Heavyweight Championship belt design harkens back to the Big Gold Belt of WWE's original World Heavyweight Championship design, but with a large WWE logo stamped in the middle of the main plate as well as both side plates.