Booker T Thinks Potential AEW Match Between Wardlow And Goldberg Could Be A Disaster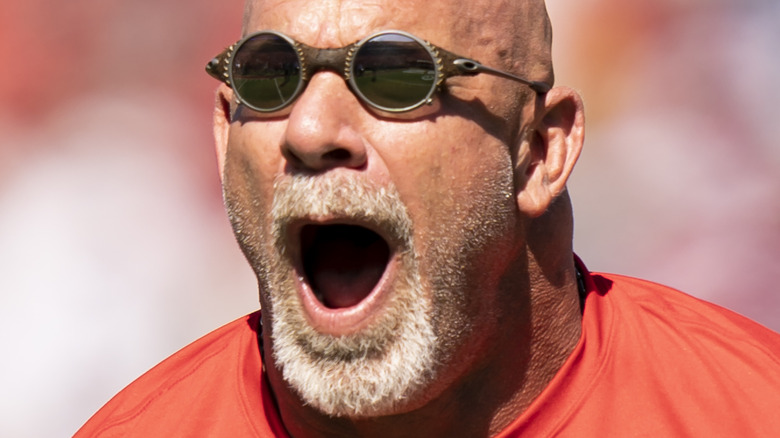 Steve Limentani/isi Photos/Getty Images
AEW is going to require a lot of star power to try and sell out the 90,000-seater Wembley Stadium for the All In pay-per-view. Among the names discussed for a match at the August 27 event is WWE Hall of Famer Goldberg, who upon becoming a free agent recently, spoke candidly about wanting to wrestle one more match before hanging up the tights.
AEW TNT Champion Wardlow, who grew up an ardent Goldberg fan, has proposed the idea of retiring his childhood idol and giving him the sendoff he deserves. While the potential match sounds exciting on paper, WWE Hall of Famer Booker T believes it has "disaster" written all over it.
"No, not for me," Booker said on his "Hall of Fame" podcast. "It's great on paper. It's something I could see headlining the marquee — I could see that. But, I'm talking about what could happen in an actual match between Wardlow and Goldberg. That could be a disaster, a total and complete disaster. I would not recommend this match."
When asked which current AEW wrestler would work perfectly in a match with his former WCW colleague, Booker threw out a rather surprising name.
"Darby Allin," Booker responded. "[Goldberg can] beat him up and get out there. That would be my pick." 
Besides Goldberg, there has been chatter of CM Punk, Will Ospreay, Kazuchika Okada, Kota Ibushi, and even Mercedes Mone wrestling at the All In pay-per-view in London. AEW President Tony Khan has made it clear that his company will pull out all the stops to give its fans an unforgettable show.