NJPW's Kevin Knight Compares 'Disciplined Uncle' Shibata And 'Fun Uncle' KUSHIDA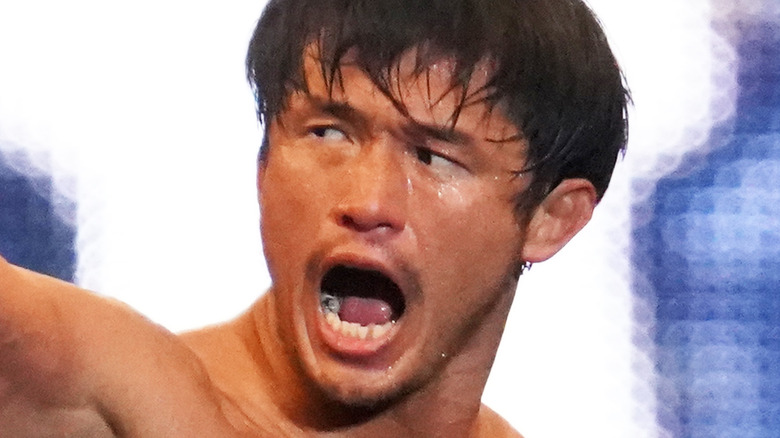 Etsuo Hara/Getty Images
After a few years of working his way through the New Japan LA Dojo, Kevin Knight is starting to see himself move up in the New Japan Pro-Wrestling hierarchy. That was evident earlier this morning when Knight and KUSHIDA defeated TJP and Francesco Akira to win the IWGP Junior Heavyweight Tag Team Championships, Knight's first-ever championship in New Japan, and of his career.
It's been a fast change for Knight, who started teaming with KUSHIDA late last year and has overhauled his look, and confidence, since then. Speaking with New Japan's official website, Knight believes it's made all the difference.
"I thought being with KUSHIDA, and being in the situation, it was a perfect time to show my real self," Knight said. "It's like KUSHIDA, the Time Splitter, he went into the future and took me back with him, y'know? So it was cool. I didn't know that nobody had done it before, so it was a little bit of 'Is this OK? Can we do this?' but it worked out great, bringing The Jet out like that."
Before finding himself under KUSHIDA's wing, Knight was one of the many pupils of ROH Pure Champion and LA Dojo head Katsuyori Shibata. Long-time New Japan fans know there is a contrast between Shibata and KUSHIDA, and it's one Knight has learned by having the two as mentors.
"It's like two different uncles from different sides of the family," Knight said. "Shibata has been there from the very beginning, helping with details and the New Japan system. He's like a disciplined uncle, and KUSHIDA is the fun uncle. He just comes with a lot of ideas, and training with him is always a good time. Not that being with Shibata is a bad time, but..."