Kenny Omega Teases Blood & Guts In Post-Dynamite Promo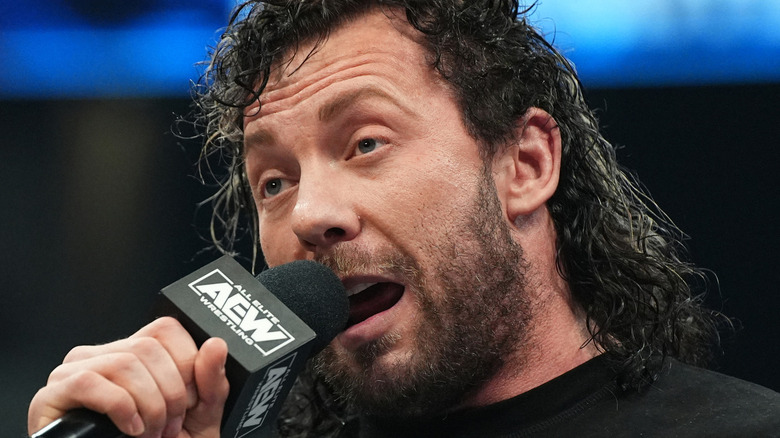 AEW
Tensions between The Elite and the Blackpool Combat Club in AEW are at an all-time high, and it doesn't appear things will be cooling down any time soon. In a post-"Dynamite" promo posted to AEW's Twitter account, Elite member Kenny Omega called out the BCC, labeling them cowards for running away, and challenged AEW President Tony Khan to book the two groups in a very specific kind of match together.
"How about we make a deal?" Omega asked. "Hey Tony, instead of letting the inmates run the asylum for a change, how 'bout you lock these guys where they can't run, where they can't hide, and you take on me." The AEW star, speaking indirectly to members of the BCC, stated that he'd show them that The Elite can do more than just wrestle — they can fight, too. While it's possible Omega could be proposing a cage match, the more likely alternative is Blood & Guts, AEW's version of War Games.
With the addition of Konosuke Takeshita as an ally to The Elite, numbers between the two groups are currently four and four, while previous Blood & Guts matches have featured both five-on-five and six-on-six match-ups. It remains to be seen, assuming the match takes place, if the groups will proceed with their current lineup or add additional participants. That could include "Hangman" Adam Page, who has been involved in the story, accompanying the Young Bucks during an ambulance trip on "AEW Dynamite," but has yet to fully ally with The Elite. If Page re-joins The Elite as has been teased, Blackpool Combat Club will need to find someone to even the odds.