Matt Hardy Comments On New WWE World Title, Says Cody Rhodes Needs To Beat Roman Reigns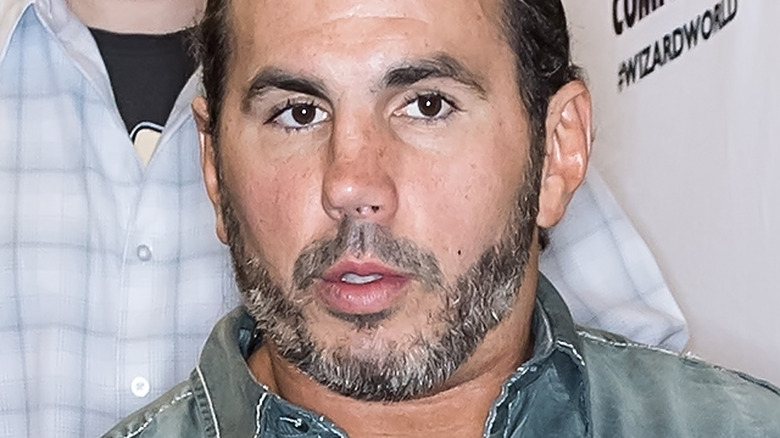 Gilbert Carrasquillo/Getty Images
The introduction of the new World Heavyweight Championship has sent the wrestling world into a stir. Between commentary on the design and speculation on who will be the inaugural champion, there has been plenty discussed amongst fans. On the latest edition of Ask Hardy Anything on "The Extreme Life of Matt Hardy Podcast," Hardy weighed in on the new title and who could be its first holder.
"I'm okay with it. I know there were a lot of people right from the jump who came out and said they didn't like it. But I'm okay with the design," he said, "It's a combination of the big WWE symbol and a big gold belt, and I'm okay with it. I think it'll grow on me as time goes on." Hardy noted the positives of having two separate world championships across two brands and the importance of having a top champion around for each show. Hardy believes it will help "build bigger matches" for WWE Premium Live Events.
Hardy also speculated on potential inaugural winners of the championship. However, there was one man Hardy saw as not needing to hold the new World Heavyweight Championship — Cody Rhodes.
"I still think the title we need to see Cody win is Roman Reigns' [Undisputed Universal Championship]. He ultimately has to win that at the end of the day. He needs to be the guy to unseat him. If you really want to make him the face of the company, and I think he's a guy who there's a huge argument for making him the face of the company currently," he said, "I guess we'll just have to wait and see. I think someone else greatly benefits from winning the World Heavyweight title. And we'll see what the future holds for Cody Rhodes."
Hardy noted that although he would've loved to see Rhodes unseat Reigns at WrestleMania and become a "made man," he's glad they're introducing a separate world title for one of the shows.