Omos Opens Up About Health Scares, Says He Appreciates WWE Moments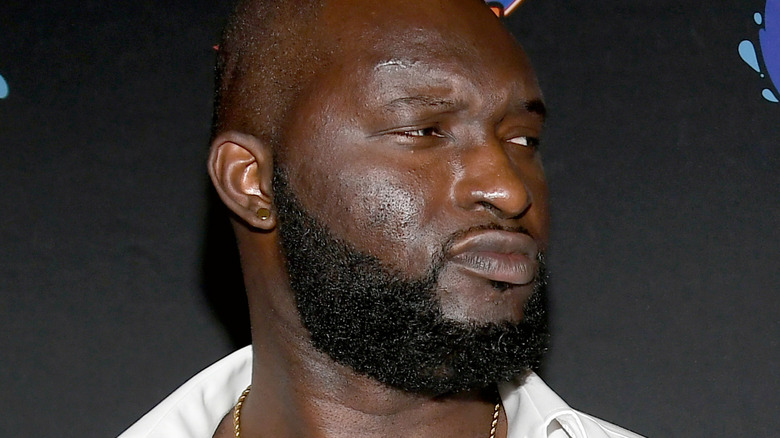 Bryan Steffy/Getty Images
WWE may be filled with larger-than-life characters, but few (if any) are larger than Omos. "The Nigerian Giant" has been taking the promotion by storm since he started teaming with AJ Styles in the fall of 2020. Although, due to some preexisting health conditions, he almost didn't make it to the WWE Performance Center. That's why the colossal competitor tries to maintain a level of gratitude for where he is today.
In an interview with SHAK Wrestling to promote his match with Seth "Freakin" Rollins at this year's WWE Backlash in Puerto Rico, Omos discussed his outlook on life after suffering from several complications with his health throughout his life such as gigantism, Cushing disease, and two surgeries on a brain tumor that could have caused blindness or a heart attack.
"This put me this in a state where I truly appreciate everything that I'm given," explained the former WWE Tag Team Champion. "Everything I do, I have a passion for life because I've been given more than I was promised. As an 18-year-old, I felt that snatched away from me and I didn't know what to do. I was taking things day by day. It gives me a piece of perspective to always... appreciate the life that I have and... make sure I enjoy every single moment... I have accomplished [many things] during the last few years [and have such] personal gratitude. [I'm focused on] being grateful for these opportunities and not taking them for granted."
In the three years that he has been on WWE TV, Omos has faced some of the biggest names in the business, including the New Day, Bobby Lashley, and Brock Lesnar at Wrestlemania. With MVP by his side and Rollins in his sights, who knows what this man can accomplish next?