Santos Escobar Explains How Wrestling Rey Mysterio In WWE Changed His Perspective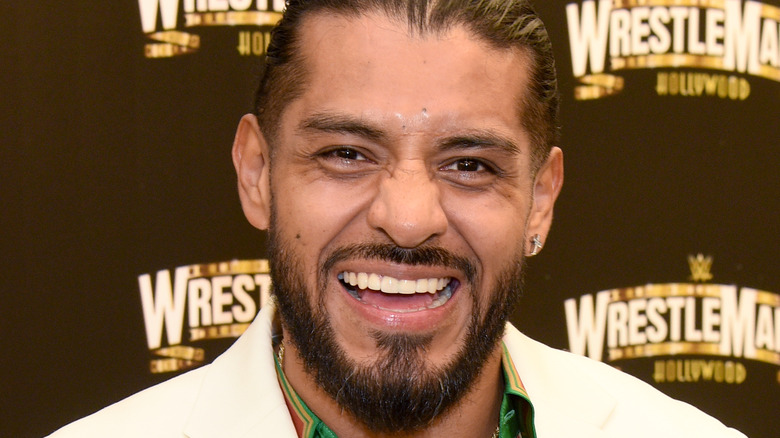 Gregg Deguire/Getty Images
Santos Escobar and Legado Del Fantasma were welcomed into the Latino World Order by Rey Mysterio recently, marking the end of a wild road that started with the two wrestlers tangling in a fatal four-way match in February. Speaking with the "Hall of Fame" podcast, Escobar said that he and Mysterio share similar values thanks to their backgrounds in lucha libre.
"[Legado Del Fantasma] represent lucha libre and lucha libre's about respect, family, tradition, heritage, culture, what I call 'my THC' tradition, heritage and culture," the former "NXT" North American Champion explained. "I'm addicted to it." 
Escobar says that watching Dominik Mysterio disrespect his father Rey during much of 2022 and 2023 stirred up animosity in the second-generation star. "He wasn't just disrespecting Rey Mysterio, a legend — now Hall of Famer — he was disrespecting the entire lucha libre tradition ... so that's why I rendered my services to Rey." 
Escobar and Mysterio ended up wrestling each other in a WWE Intercontinental Championship No. 1 contender Fatal Four-way match on an episode of "SmackDown," which neither man won but helped Escobar better understand his feelings for the WWE Hall of Famer.
"I realize what I've got for [Rey] is admiration and respect. I gave him my mask and he gave me his mask. That creates a bond that's unbreakable. It's the ultimate sign of respect in lucha libre." Escobar, who won his own father's mask through combat, thinks Dominik is missing out on the rich tradition of lucha libre by spurning his father.