Tony Schiavone Says There's A Place For Blood And Death Matches In Wrestling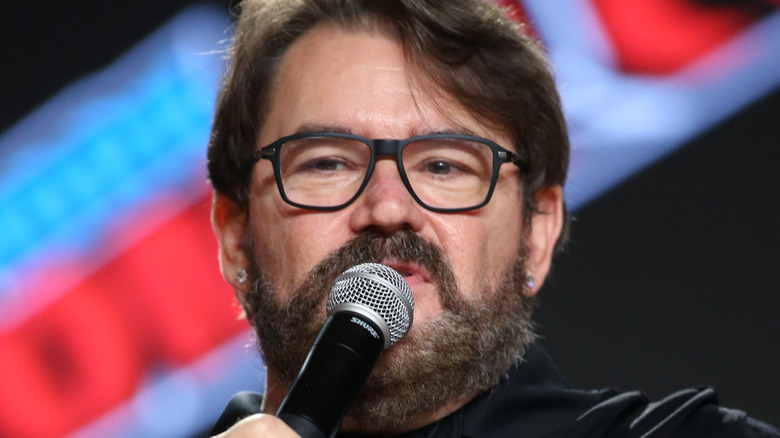 Bennett Raglin/Getty Images
A particularly hot topic in the modern era of professional wrestling is the prevalence of death matches, as well as the presence of blood. The latest person to weigh in on this eternal debate is AEW commentator Tony Schiavone. Speaking on his podcast, "What Happened When," Schiavone shared his belief that a certain death match and blood both have their place in wrestling.
"Well, I always thought there was a place for a Texas Death Match in wrestling, although the Texas Death Matches that I remember are much different than the ones there are now," Schiavone said upon being asked about the Texas Death Match between "Hangman" Adam Page and Jon Moxley at AEW Revolution. "I think in this era of tables, ladders, and crazy things that we do, I think Texas Death Matches are kind of plain compared to that."
The AEW commentator stated that fans are looking for more out of wrestling today than they were in the past, and that includes more impressive stunts as well as blood. Schiavone also revealed that he's a fan of one notable death match wrestler.
"I like Nick Gage," Schiavone stated. "I got to talk to Nick when he did his match against Chris Jericho, and I just told him I had seen the 'Dark Side of the Ring' about him, and I told him how glad I was to have him with us. I'm glad we got Nick a pretty good payday." Schiavone said that the independent wrestler had undoubtedly paid his dues to wrestling throughout his career, and Gage had put in the work to earn the spot he was given in AEW against Chris Jericho in 2021.