Olympic Gold Medalist Tamyra Mensah-Stock Announces She's Signed With WWE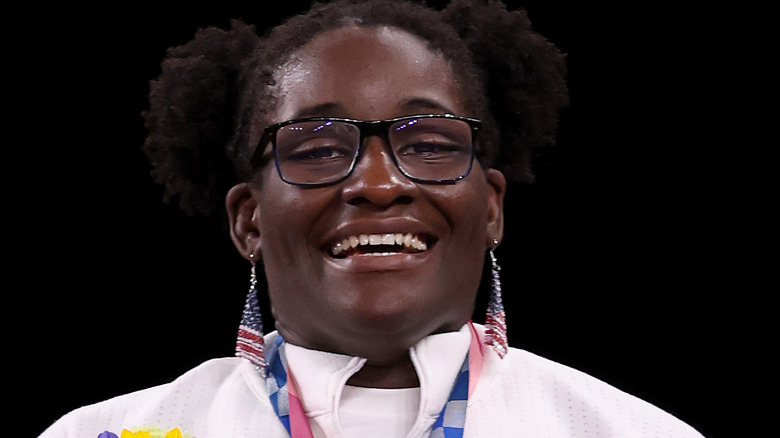 Tom Pennington/Getty Images
It seems that WWE may have a thing for Olympic gold medalists in freestyle wrestling. Over the past 30 years, the promotion has brought in two notable gold medalists: Kurt Angle and Gable Steveson, with the former having a Hall of Fame career, while the latter's potential is still to be determined.
Now WWE is adding another gold medalist to their ranks, this time to the women's division. On ESPN earlier Wednesday, 2021 gold medalist Tamyra Mensah-Stock announced she was making the move from amateur wrestling to pro wrestling.
"My big announcement is I am going to be retiring from competitive wrestling," Stock said. "I feel like I have done everything I can in Olympic wrestling. I've got the gold medal, I'm a multiple world champion, and I've been in it for fifteen years and I've had an incredible journey. Some of the greatest coaches, and friends; it's been awesome. But now, I'm going to be going into the WWE! Let's go!"
After reiterating her excitement over the signing, Stock revealed she had moved to Orlando and would be starting training this week at the WWE Performance Center. She further noted that she had done no pro wrestling training prior to signing with WWE and that her first day at the WWE PC, this past Monday would be her first dose of wrestling experience.
Despite that, the 30-year-old Stock is no stranger to WWE, having appeared on a November 2021 episode of "NXT," only months after winning her gold medal at the 2021 Summer Olympics. Stock was seen sitting in the crowd during the main event match between Raquel Rodriguez and Dakota Kai, and received a USA chant from fans in attendance.