Former Tag Team Champions The Headbangers Sign Nostalgia Agreement With WWE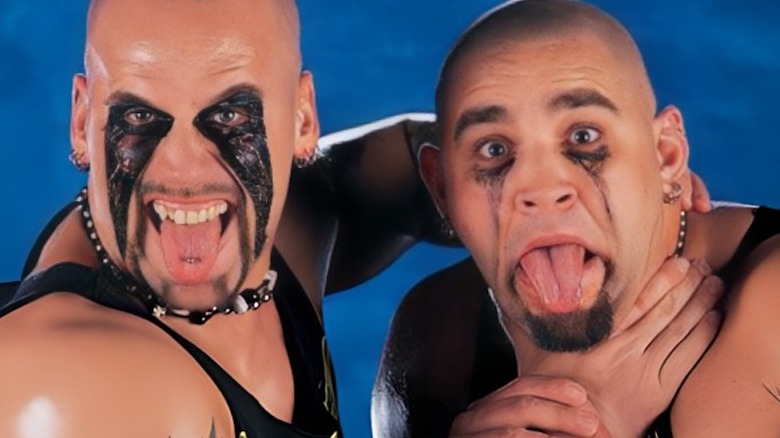 WWE
Fans of WWE in the 1990s will likely remember Mosh and Thrasher of The Headbangers. The duo held the WWE Tag Team Championship for just under a month in 1997, as well as the NWA World Tag Team Championship the following year. Now, it sounds as though fans might see new Headbangers merchandise on the way soon. Chaz Warrington (Mosh) and Glenn Ruth (Thrasher) have announced that they've signed a "Nostalgia Agreement" with WWE.
"Headbangers have been offered a "Nostalgia" contract with [WWE,] and now that it's been signed, I can share the news!" Warrington wrote. "What does that mean? Glad you asked. New action figures, video games, and who knows what else!"
The Headbangers' original run lasted from 1997 until 2000, with the duo returning to WWE for a few appearances back in 2016. Following their initial WWE run, the two men split up for 10 years before getting back together on the independent scene, where they still tag together intermittently to this day.
WWE's "nostalgia contract" allows the company to create and sell merchandise for legacy acts, with former WWE stars such as Kurt Angle and Samu Anoa'i signing these contracts in recent years. It's unknown if the company has any other plans to get Mosh and Thrasher involved, such as by including them in any upcoming video game releases. It seems that the option is at least on the table, so fans of The Headbangers will have to keep an eye out for any emerging details in the months and years ahead.