Omos Opens Up About What He's Learned From AJ Styles In WWE: 'Be Vicious'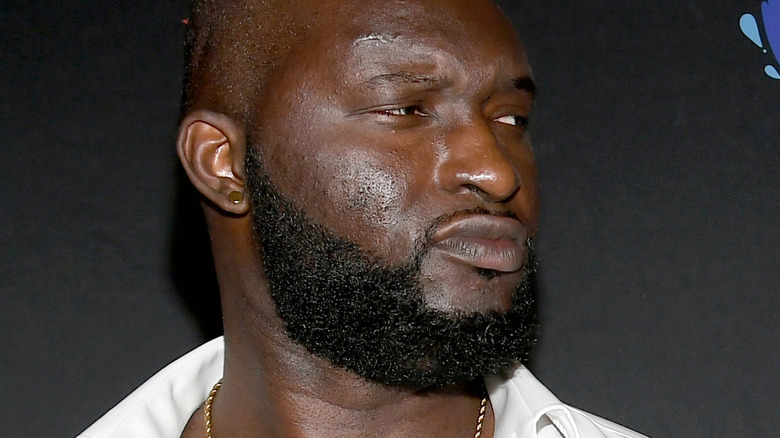 Bryan Steffy/Getty Images
For the past year or so, now with MVP by his side, "The Nigerian Giant" Omos has been going it alone in a WWE ring. He teamed with AJ Styles before that though, ultimately winning the "WWE Raw" Tag Team Championship in the process. To say he's learned from "The Phenomenal One" would be an understatement, but on "Insight with Chris Van Vliet," he expanded a little more on what the 20-plus year veteran taught him.
"Being vicious," Omos said of what he learned working alongside the former WWE Champion. "That, I think that's what separates AJ from everybody else. AJ knows when to be vicious." Not only did Styles mentor him when they teamed together, he still does, with Omos adding "He was mentoring me, which he still does today because he's one of my closest friends." And it all goes back to that viciousness, which he described as an art, saying "Look like you want to kill somebody, that is the art. It's not about what you do, it's what's in here and what you're conveying in your eyes. That was something I learned from him."
While Omos hasn't had a high-profile win since defeating Bobby Lashley at WrestleMania Backlash in 2022, he has had high-profile matches in recent months against the likes of Braun Strowman at Crown Jewel and Brock Lesnar at WrestleMania 39. By the time Backlash comes and goes, he will have mixed it up with Seth "Freakin'" Rollins as well.
If you use any quotes from this article, please credit "Insight with Chris Van Vliet" with a h/t to Wrestling Inc. for the transcription.