Eric Bischoff Says Tony Khan's 'Childish' Reaction Diminishes Wembley Accomplishment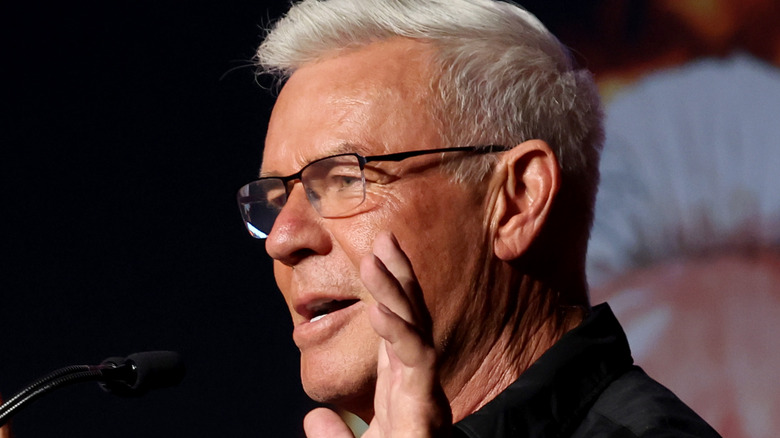 Jason Kempin/Getty Images
Just hours after AEW All In went on sale to the general public, with 60,000 tickets sold to the event so far, former WCW President Eric Bischoff shared his belief on the "Strictly Business" podcast that AEW President and co-owner Tony Khan made himself and his company look bad during a recent exchange on Twitter, diminishing their recent achievement. Earlier this week, Khan harshly refuted an ESPN reporter's claim that All In would have a capacity of 40,000 fans, implying the information was leaked to the reporter via WWE CEO Nick Khan and encouraging the reporter to tell the WWE executive he should "shove it up his a**."
"Tony is a man-child," Bischoff said, making sure to note he had not actually seen ESPN reporter Mike Coppinger's comment — only Khan's response. "Tony, do yourself a favor — do your company a favor — and stay away from the camera. ... Every time Tony Khan steps in front of the camera, he makes his brand look childish and silly." Bischoff stated that AEW isn't in a war with WWE no matter how much Khan may try to make it seem that way, suggesting that Khan wants his company to feel like WCW during the "Monday Night Wars" of the mid- to late-1990s.
"Let it go," Bischoff continued. "Let other people put you over. Let other people say the things that maybe deep down inside you want to say. Let other people say it for you, whether it's fans or a spokesperson. Because it makes you look less significant." The former "WWE Raw" general manager then gave his congratulations to the company, stating that the amount of tickets they've sold to All In so far is undeniably a massive success story.