Eric Bischoff Isn't Surprised At AEW All In Success, Blames Tony Khan For 'Tribalism'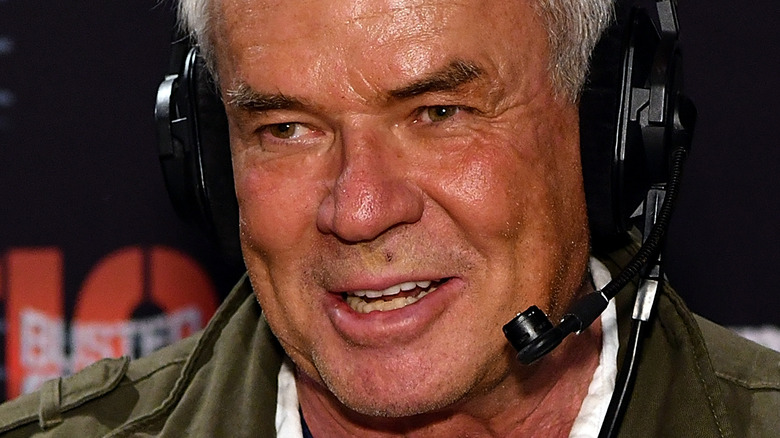 Slaven Vlasic/Getty Images
AEW has yet to announce a single match for All In at Wembley Stadium, but the event has already exceeded 60,000 ticket sales. The show is shaping up to be a record-breaker, and Eric Bischoff isn't surprised that the company has sold so many tickets for its debut in the United Kingdom.
"I wasn't surprised at the success," Bischoff said on the latest episode of 83 Weeks. "I mean, that's a big number and I didn't go into this going, 'Aw, I think they'll maybe sell 50,000 or 80,000. I knew they were gonna do well. I said that as soon as it was announced, that I knew they were gonna do extremely well."
According to Bischoff, selling 60,000 tickets is a huge accomplishment for the promotion, which is impressive considering that "AEW Dynamite" ratings have been topsy-turvy in recent times. "It's an unmitigated success. There's no way you can spin it, twist it, turn it any other way. It's a huge, huge accomplishment... And the same week they're announcing that phenomenal event turnout, they deliver 755,000 people on television." Bischoff said ticket sales for wrestling events used to correlate with a company's television success, but that isn't the case for AEW.
The All In ticket sales news has also led to some bickering between AEW and WWE fans on social media; however, Bischoff feels that Tony Khan has contributed to the online conflicts. "To be fair, a lot of that tribalism is because of Tony Khan and some of the talent in AEW. They're constantly talking shots at WWE," he said before citing Khan firing back at an ESPN reporter as a prime example of this behavior. In the tweet, Khan also took shots at WWE's Nick Khan.
If you use any quotes from this article, please credit 83 Weeks with an h/t to Wrestling INC. for the transcription.