Sting And Goldberg Could Potentially Be Involved With Big Event In September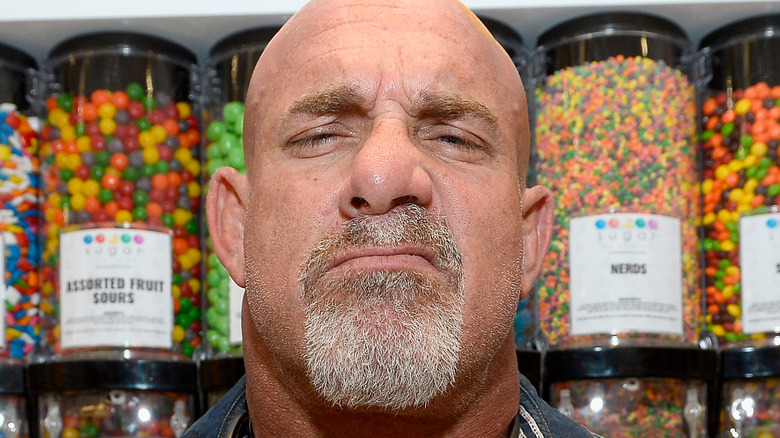 Bryan Steffy/Getty Images
Wrestling and MMA promoter Rick Bassman is reportedly in talks with Bill Goldberg and his agent Barry Bloom to bring Goldberg's idea of a retirement tour to life. The show could even include an appearance from Goldberg's fellow WCW veteran Sting. Speaking to "Haus of Wrestling," Bassman teased the idea of booking a wrestling show in Jerusalem with the major stars.
"I'm actively in touch with Bill," Bassman said. "I'm working on a date right now. I don't promote much these days but every now and then, something fun comes up, and it's worth diving into. So working on a date in Jerusalem, Israel for September of this year. And that would involve, potentially, both Goldberg and Sting." Bassman stated he didn't yet have clearance from AEW for Sting's appearance, but it was something he was hopeful he would be able to work out soon.
Goldberg was reported to have met with an international promoter over WWE's WrestleMania weekend to discuss possible shows, but it's unknown if this promoter was Bassman. The former world champion's last matches took place in WWE, and Goldberg reportedly had a handshake deal with Vince McMahon for an official retirement match before McMahon stepped down as CEO last year. Though McMahon is now back in the company, it seems the deal with Goldberg has fallen through and he will look elsewhere for his retirement showcase.
Sting is another performer who has teased retirement in the near future. The AEW star's contract ends sometime this year, and Sting has openly discussed the impending end of his wrestling career in recent months. As of now, it's unclear when Sting intends to retire, or if he will compete at Bassman's planned show, but more details should become clear as the event approaches.