Tito Santana Says His Tag Team With Rick Martel Almost Had A Controversial Name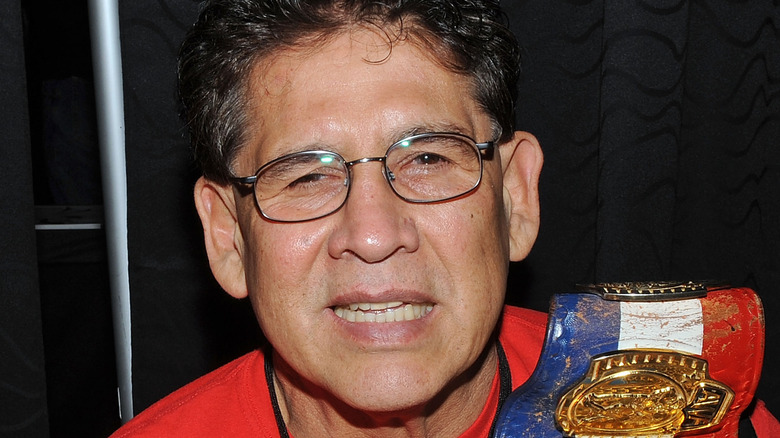 Bobby Bank/Getty Images
Of all the noteworthy things to occur in Tito Santana's Hall of Fame career, arguably the biggest thing he ever did was Strike Force, his tag team with Rick Martel. Originally teaming together in the AWA in 1982, the two became a full-time team for WWE in 1987, staying together for over two years, and holding the WWE Tag Team Championship before Martel turned on Santana in 1989, leading to a feud between the two.
In an interview with "Wrestling Then and Now," Santana looked back fondly on the time, complimenting Martel on his skill as both a babyface and a heel, and, much like Jake Roberts, questioning why Martel hadn't gotten inducted into the WWE Hall of Fame himself, despite a comparable career to Santana's. Equally as puzzling was Santana revealing that Strike Force was the second choice of name for his and Martel's tag team, with Vince McMahon at first favoring a more controversial choice.
"Vince talked to me and he said 'We'd like to team you up with Rick Martel, and we want to call you the Border Patrol,'" Santana said. "At the time, there was a lot of bad stuff happening to Hispanics trying to cross the border in Texas. Some of them died in the train boxes. And I told Vince, I said 'If you call us Border Patrol, you might turn us heel, because of what's going on at the borders.' He agreed, and he changed us from Border Patrol to Strike Force, which I think turned out to be a better choice."
If you use any of the quotes in this article, please credit "Wrestling Then and Now" and provide a h/t to Wrestling Inc. for the transcription