Jim Ross Will Be With AEW For All In At Wembley Stadium, Doesn't Know Role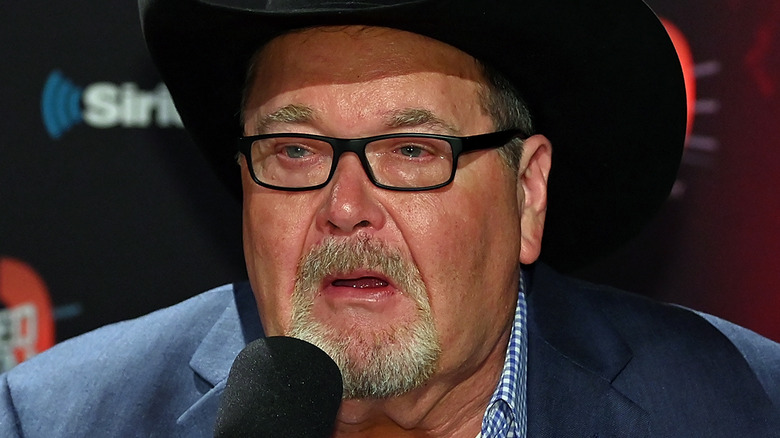 Slaven Vlasic/Getty Images
As AEW's Jim Ross begins to wind down his career, the Hall of Fame announcer has also seen his role begin shrinking. He no longer leads the "AEW Dynamite" broadcast while heading up the less-watched "AEW Rampage" on Friday nights (or wherever it winds up due to preemption) and receiving a more select spot on AEW PPVs. But that doesn't mean Ross is altogether finished yet. He has his sights set on at least one more big show – All In at London's Wembley Stadium this August.
But what will he be doing at All In? On the latest episode of Grilling JR, the AEW announcer revealed he's not sure what his plans are for the big Wembley event. Regardless, he's very much looking forward to the event.
"I'm excited about it," Ross said. "I'm glad I'm going. I don't know what I'm doing. That's the great thing about my career. I've done it all, without sounding like a jerk. All roles. I've done color, I've done play-by-play, I've been a host, blah blah blah. So I don't know what I'm doing, but it doesn't matter. I'll be a part of the event," he continued, "and that's what's going to be cool as hell. Guys like me, I don't know how many more rodeos I've got."
What Ross is most excited about, however, is the opportunity for some of AEW's young talent to work a show of this magnitude. "I'm so happy for our company, and I wish I was in a position ... to see the expressions on faces of the talents when they go out, headed to the ring," Ross said. "That's when it strikes you, that's when you get it going to the passion and the enthusiasm ... This is a moment for all of us that are going to be involved, that we're going to be remembering, hopefully fondly, for the rest of our lives."
If you use any quotes from this article, please credit "Grilling JR" with a h/t to Wrestling Inc. for the transcription