Kurt Angle On Why TNA Could Never Have Beaten WWE: 'They Didn't Have The Money'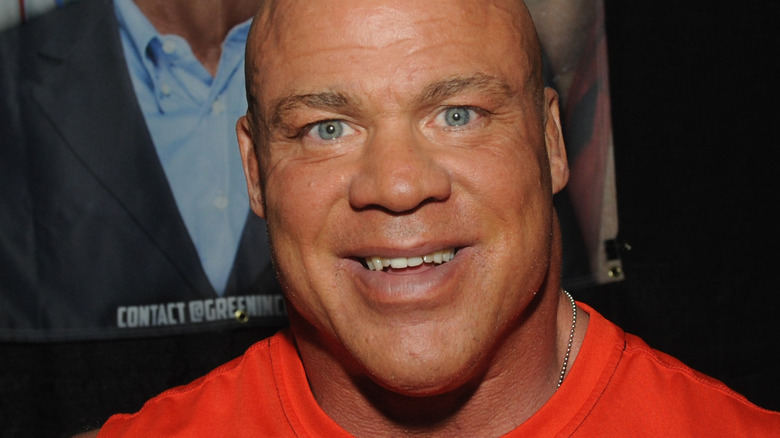 Bobby Bank/Getty Images
TNA burst on the scene in 2002, offering an alternative to WWE for professional wrestling fans in the United States. And while TNA (now Impact Wrestling) never quite hit those highs, it did what it could, considering its resources and frequent personnel issues. On a recent episode of "The Kurt Angle Show," the WWE Hall of Famer was joined by Ken Anderson (formerly Mr. Kennedy in WWE), and together they discussed the mindset of those within TNA at the time.
"I always think there's a possibility, right?" Anderson said when asked if TNA thought it could truly chase down WWE, adding that he wanted to give it his all. "I think that was what was so cool about working there."
Angle on the other hand, who wound up becoming a six-time TNA World Heavyweight Champion, knew that it was never in the cards.
"Now, me, I was more realistic," Angle admitted, stating that everyone wanted the show to succeed regardless. "I thought we were special to begin with ... I just didn't think we'd ever be able to beat WWE ... We just didn't have the money."
It wasn't as though they didn't try, however. But even with the star power TNA brought in at times, including Hulk Hogan and Ric Flair, it just wasn't going to happen. Angle also recalled Eric Bischoff booking several house shows and events, but ultimately TNA had to foot the bill.
"The money was going because we were trying to compete with WWE," Angle added. "We should've went at our own pace, at least for a few more years."
If you use any quotes from this article, please credit "The Kurt Angle Show" with an h/t to Wrestling Inc. for the transcription.