Shawn Stasiak Refutes Kurt Angle Story, Challenges Him To Match At WrestleMania 40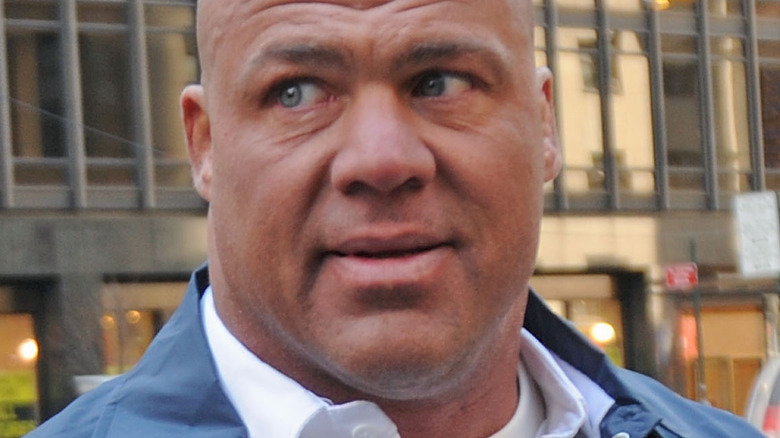 Bobby Bank/Getty Images
Shawn Stasiak and Kurt Angle will always be connected, given that Angle's WWE debut at Survivor Series 1999 saw him defeat Stasiak. Recently, however, they've been connected in a different way, as Angle's remembrance of their match, and some other instances at the time, have left Stasiak a bit miffed. One thing Stasiak, in particular, has taken issue with, as he revealed in an interview with "PW Mania", was a claim Angle made that Stasiak had asked WWE to hold off his own TV debut for a bit while he received a hair transplant.
"I don't know if he heard something from someone in the office, I don't know maybe he was a little loopy that day, I don't what he was thinking, but that's a bulls**t story," Stasiak said. "I never would have called WWE, and said 'Hey guys listen, I'm getting my hair done, you're got to hold off my debut for a couple of months.' Are you kidding me? None of that happened. I spoke with them and consulted. They said 'Yes, by all means, get it done, but get it done now because there's a little bit of a period of recovery, for about a month or so ... just do it now, and then we should be fine.' So I did."
Stasiak claims he has no ill will towards Angle, however. In fact, he'd be open to facing Angle in one more match, at WrestleMania 40 next year, should Angle want it. "That's up to WWE and that's up to Kurt Angle," Stasiak said. "I'll just say this ... I love Kurt, respect Kurt but it all started with me, why not end it with me Kurt, full circle? WrestleMania 40, Philadelphia, Pennsylvania, your home state, right? You want to end your career? Let's do it."

If you use any of the quotes in this article, please credit "PW Mania" and provide an h/t to Wrestling Inc. for the transcription.