Kurt Angle Likes The New WWE World Heavyweight Title, But Says It's Definitely Secondary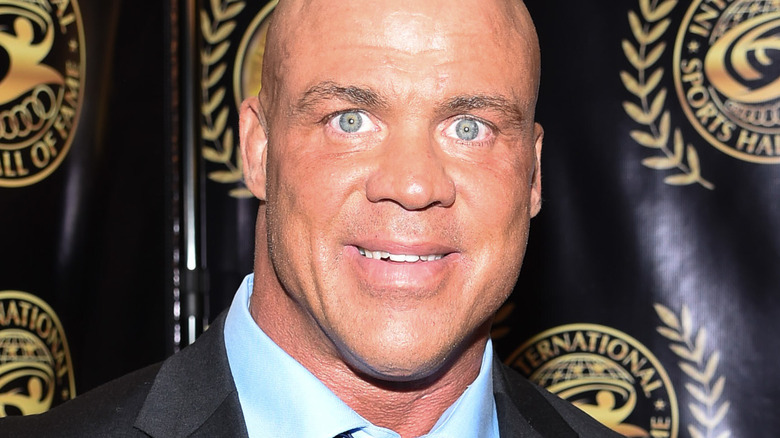 Dave Kotinsky/Getty Images
On Saturday at Night of Champions, a brand new WWE World Heavyweight Champion will be crowned when Seth Rollins battles A.J. Styles. And while there is plenty of excitement for the match itself, it's difficult for some to see the new championship as anything but secondary. This week on "The Kurt Angle Show," the WWE Hall of Famer praised the belt itself while echoing the sentiment of others.
"I like it, it has a good look to it," Angle said of the belt. "It looks innovative and new, it's not old-fashioned. It's definitely a new look."
As far as what the new belt implies, many are viewing it as a consolation prize or participation trophy of sorts. Even though Rollins and Styles will work to make that title their own, even Styles recently said, "Well if the 'Raw' Championship is held by Roman, the 'SmackDown' Championship is held by Roman, then how can you argue that it's not [secondary]?"
That said, Styles also talked up the idea that between him and Rollins, the new champion will be the workhorse champion. Yet for what it's worth, Angle also believes it's nearly impossible to think of the new title as being anything but secondary.
"Yeah, I mean, there's no way around not thinking that the title is secondary," he suggested, noting that there are already two world championships and Reigns isn't giving one of them up. Therefore the brand that Reigns isn't on, in this case, "Raw," gets its own.
Angle loves both Rollins and Styles, but he cannot look past that, adding "It is, it's second. It is second. I'm sorry, but it is."
If you use any quotes from this article, please credit "The Kurt Angle Show" with an h/t to Wrestling Inc. for the transcription.