Melina Says WWE Had No Plans For Her Returning After 2022 Royal Rumble Appearance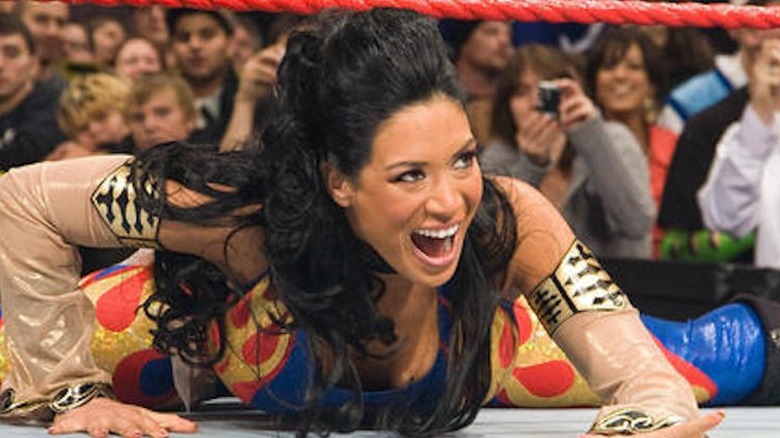 WWE
A number of surprises materialized during the 2022 women's Royal Rumble, including the return of several WWE legends — one of which was former WWE Women's Champion Melina, who entered at No. 2. Unfortunately, Melina's return was cut quite short, as she was swiftly eliminated by Sasha Banks less than a minute after the opening bell. Plenty of fans wondered if they might see Melina stick around WWE for a bit afterward, but as Melina tells it, there were no plans for her to come back.
Melina explained on "Muscle Memory" that WWE instructed her to get in and then promptly get out of the ring during the Royal Rumble. "They're like, 'Okay, you do your entrance, get in, step in, get sh*tcanned." And I was like, 'That's it?'"
Despite some initial disappointment, Melina recalled being excited to square off with Banks and maintained hope that their brief interaction might lead to something more. "That face-off with me and Sasha. I thought, 'Okay, well, there has to be some more, maybe like WrestleMania, maybe SummerSlam, because the way the crowd was -– they loved it. Maybe they cut everything out so that we could do something in the future, and then it never happened. And it's like, 'Wow, it's life.' I accept all the downfalls. I accept when things get canceled and things get taken away."
If it were up to her, Melina would've wrestled Banks again in a heartbeat. The same case applies for Trinity (formerly known as Naomi), who Melina believes could create magic with her in the ring. As Melina said, though, "sometimes you don't get what you want."