Booker T Believes Cody Rhodes Beating Roman Reigns Could Have Turned Out Like KofiMania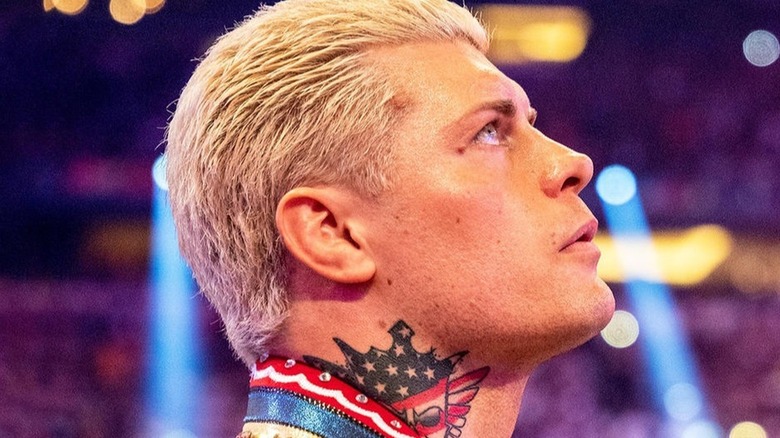 WWE
Cody Rhodes' loss to Roman Reigns at WWE WrestleMania 39 was a controversial decision that many people remain torn about even two months later. However, in the opinion of WWE Hall of Famer and "NXT" commentator Booker T, the decision was a smart and necessary one to make Rhodes' arc an interesting one.
On a recent episode of the Hall of Fame podcast, Booker spoke about Rhodes' feud with Brock Lesnar and the ongoing adversity he has experienced since his return and victory at the Royal Rumble event earlier this year. "[I like] Cody having to go through adversity and not just coming to WWE and getting the title," Booker admitted. The former World Heavyweight Champion thinks Rhodes winning the title at WrestleMania 39 would've been a boring and predictable story. "Cody comes in from AEW, wins the title immediately — Where do you go from there?" Booker asked.
Booker then compared Rhodes' theoretical title win to Kofi Kingston's WWE Championship reign in 2019. "Everybody wanted the title on Kofi when he won it, but then when he won it, they didn't care that he had it," Booker recalled. "Once he won that match, the KofiMania thing went away."
Following his loss at WrestleMania 39, Rhodes has been feuding with Lesnar, who attacked him the night after his monumental loss. The pair have met in two singles matches this month, with Rhodes winning at WWE Backlash in Puerto Rico and Lesnar winning at WWE Night of Champions in Jeddah, Saudi Arabia. With Rhodes being assigned to "WWE Raw" in this year's draft, he will likely seek Seth Rollins' World Heavyweight Championship moving forward.