Tony Khan Says AEW Is Making More For Saturday Show As Part Of Current Deal With WBD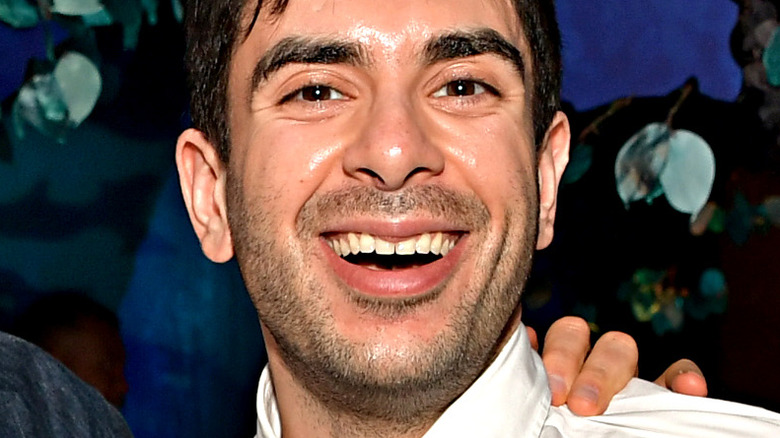 Emma Mcintyre/Getty Images
With AEW Double or Nothing in the rearview mirror, attention now turns towards the summer, and everything Tony Khan's promotion has to look forward to. For instance, "AEW Collision,"  which is set to debut on Saturday, June 17. Speaking to the media following Double or Nothing, Khan expanded on the details of their deal with Warner Bros. Discovery. Specifically, how much financial muscle WBD is providing.
"Yes, we're definitely being paid for Collision, and being paid very well," he said. "We got a new contract, I think it's fair to say. It's more money, but it's the same length of time."
With "Collision" debuting in June, it is set to follow the same format as "AEW Dynamite" in that it'll be a two-hour show, but airing every Saturday night. As far as production and the costs that come with it, things will be a little different for AEW on that end. That said, as Khan explains, no longer producing "Dark" and "Elevation" will help significantly. Most of all, he is very excited and feels very strongly about what the new show will mean for AEW going forward. "It was a great opportunity for the company to get more revenue to do more TV, and also grow another brand," he added. "It will be some added production costs, and now we're not producing Dark and Elevation so there is some cost savings there."
Through ticket and merch sales, as well as different licensing fees, Khan is expecting a lot more revenue. "Collision" will debut at the United Center in Chicago, Illinois, but it will not take place in the same location every week. However, with the inaugural show taking place in Chicago, there is suspicion among many that CM Punk will be returning to AEW when June 17 arrives.