WWE HOFer Ted DiBiase Reveals He Has Brain Trauma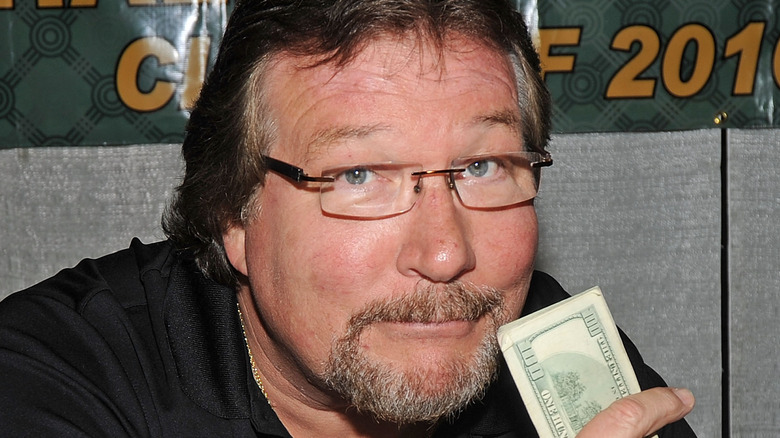 Bobby Bank/Getty Images
WWE Hall of Famer Ted DiBiase, known to fans as "The Million Dollar Man," retired from full-time in-ring competition in 1993, wrestling only twice since. However, on the latest episode of DiBiase's "Everybody's Got A Pod" podcast, the veteran revealed that he's still dealing with the aftermath of his wrestling career.
"I don't have Alzheimer's and I don't have dementia," DiBiase said. "But they said, 'Ted, you have something — we just simply call it severe brain trauma.' ... I only wrestled maybe almost 20 years, so I'm not surprised I might have a little brain trauma. What it affects is my memory, and they say it'd be easier for [me] to remember something [I] did 40 or 50 years ago, but the short-term memory — some of the stuff like now — it's bits and pieces." Earlier in the podcast, DiBiase briefly discussed the end of his in-ring career, stating he knew to hang his boots up earlier than many of his peers in order to try and live a long and comfortable life. The Hall of Famer cited the death of his adopted father in the ring due to a heart attack as one of the reasons why.
DiBiase and his family are currently embroiled in a political scandal, with allegations that members of the DiBiase family took millions of dollars in federal aid money meant for low-income families. DiBiase's sons, Ted Jr. and Brett, are both heavily involved; Brett pleaded guilty to the welfare fraud case earlier this year, while the trial of Ted Jr. was initially scheduled to begin in June but has seemingly been delayed. In the meantime, DiBiase Sr. has joined countless other retired wrestlers who've started up their own podcasts, with "The Million Dollar Man" sharing stories from his many years in the industry.