Alexa Bliss Planning To Prep For WWE In-Ring Return A Month After Giving Birth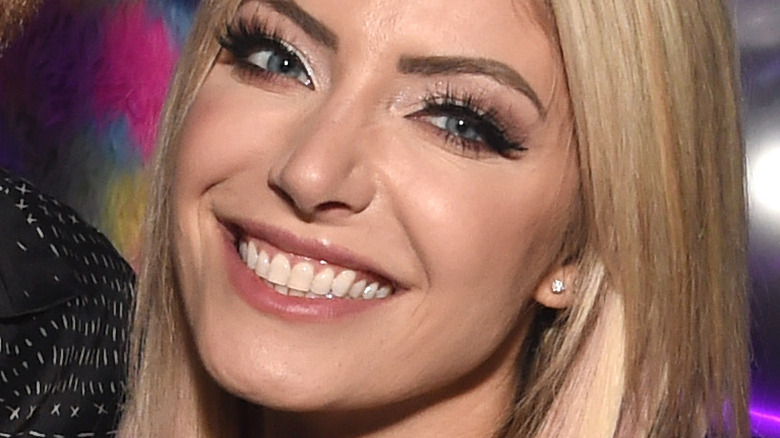 Michael Kovac/Getty Images
Fans who were worried about Alexa Bliss' in-ring future can breathe a sigh of relief. In a recent interview with "The Messenger," Bliss revealed that WWE extended her contract earlier in 2023, at a time when she took a hiatus from the company to participate in "The Masked Singer" competition. The former multi-time women's champion confirmed she would be returning to the squared circle following her pregnancy.
"WWE gave me time off for [Masked Singer] to kind of fully dive into that experience with rehearsals, vocal lessons, and all that stuff," Bliss said. "Storyline-wise, I was not on TV anyway, so it really kind of worked out perfectly. [WWE] extended my contract, and so it's just basically come back when I'm ready. Probably a month after the baby, I'll start probably getting back into the gym, and getting ready to see what my in-ring return looks like."
As revealed by Bliss in her earlier interview with E!, she and her husband, Ryan Cabrera, were not trying to conceive and were taken aback by the news of her pregnancy. Bliss says she was on the verge of returning to the ring for WrestleMania 39 season until she began experiencing cramps. "I thought that was weird. So then I just decided to take a test and then I think I said, 'Oh s—t.'"
As per Bliss' Instagram post, she is due to give birth in December, meaning her return to the ring at WrestleMania 40 cannot be ruled out. Bliss last wrestled against Bianca Belair at the Royal Rumble earlier this year. Prior to the bout, she was involved in a storyline with Uncle Howdy, who repeatedly asked her questions such as "Do you feel in charge?" via various vignettes. The segments seemed to hint at Bliss inevitably crossing paths with Bray Wyatt, her former on-screen ally. Those plans were dropped when Bliss and Wyatt were written off television weeks before WrestleMania 39.