Dark Side Of The Ring's Evan Husney Comments On Possibility Of Vince McMahon Episode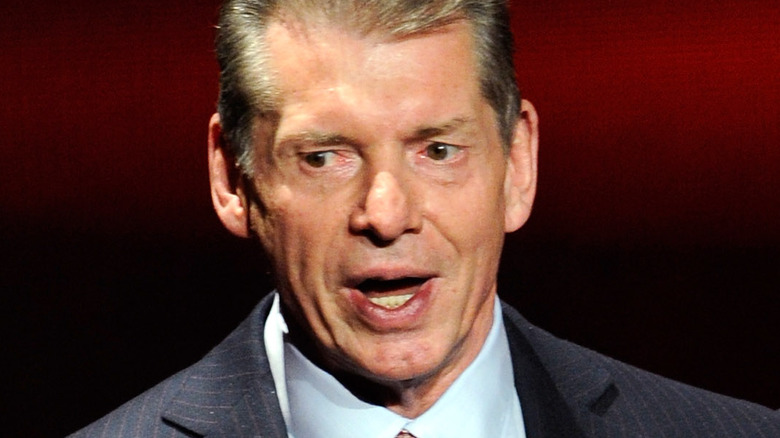 Ethan Miller/Getty Images
While there's never been an episode that has strictly focused on WWE Chairman Vince McMahon during the four-season run of "Dark Side of the Ring," it's almost expected at this point that McMahon will be mentioned as a major character in several episodes a season. McMahon is mentioned so frequently that some have come to call him "Dark Side's" Thanos, a comparison co-creator Evan Husney acknowledges, but also disputes as coincidence more so than by design.
With McMahon now having his own controversial saga in the last year, however, some have come to believe it's only a matter of time before Husney and the rest of the "Dark Side" team tackle McMahon's retirement, un-retirement, and the sexual misconduct scandal behind it. In an appearance on "ComicBook Nation," Husney discussed the possibility and also commented on modern wrestling controversies being labeled as potential "Dark Side" subjects.
"It's funny to see on social media, I do get a kick out of it when something controversial happens in the modern age of wrestling, you instantly get the 'Dark Side' memes," Husney said. "That's fun. But honestly, the way that I look at these modern stories is, at least with most of the stories we've covered on the show, there's the benefit of hindsight, or so much time has gone by, [that] the story's done. The story's finished, quote, unquote, so we can really get into it and try to unpack it.
"These stories that pop up just in the last year or two, those are stories that are not really done being told, I feel like. So I think that ... I think we might have to wait a few years, maybe even a few more, before we can really dive in and unpack, and truly begin to understand every aspect of that story."
If you use any of the quotes in this article, please credit "ComicBook Nation" and provide a h/t to Wrestling Inc. for the transcription