Matt Hardy Compares AEW's Orange Cassidy To WWE's The Undertaker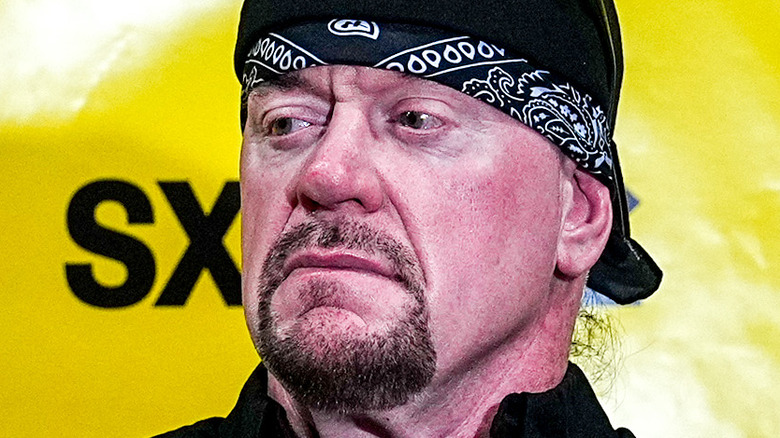 Stephen Olker/Getty Images
AEW International Champion Orange Cassidy has wrestled more matches than any of his AEW peers in 2023, a year in which his win-loss record stands at 26-2 across television, house shows, and pay-per-views. Cassidy's ascension into AEW's workhorse has been lauded by Matt Hardy, who is even more impressed by Cassidy's ability to stay in character, a trait that reminds him of The Undertaker.
"Orange Cassidy is tremendous," Hardy said on "The Extreme Life of Matt Hardy." "He's at the top of the list when it comes to performers in AEW. He's out there playing a character that is not easy to do, but he's very committed to the gig. I can tell you how much I respect someone who does that because I did that as Broken Matt Hardy."
Hardy argued that if Cassidy were to portray a "normal wrestler," he'd be having "amazing matches" even without calling upon his unique, laidback offense. "The thing that attracts him to so many fans is the persona," Hardy continued. "It's the whole Orange Cassidy shtick. He's one of the best wrestlers in the industry right now. He has great confidence in knowing what he needs to do — to make the character excel, grow, and connect with people."
Hardy proceeded to make an admittedly "strange connection" between Cassidy to Undertaker, citing their ability to deliver solid matches for their respective bosses.   
"In some ways, Orange Cassidy to Tony [Khan], at this stage right now, reminds me of the relationship between Vince McMahon and The Undertaker," Hardy said. "[Taker] was like Vince's go-to guy, a guy that Vince knew could go out and get the job done. On top of that, those guys were both great wrestlers but played outlandish and over-the-top gimmicks. There's a crazy similarity there."
In conclusion, Hardy stressed that Khan putting Cassidy in a 21-man battle royal at Double or Nothing was another sign of the AEW boss' utmost faith in Cassidy.