Kurt Angle Praises Mercedes Mone, But Names Another Horsewoman The Best In The World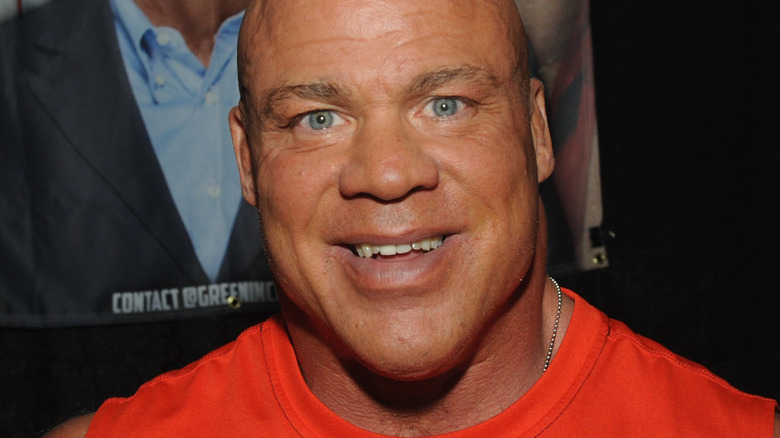 Bobby Bank/Getty Images
While Kurt Angle is mostly associated with his runs with WWE from 1999 to 2006 and later from 2017 to his retirement in 2019, the Olympic gold medalist actually spent more time outside of the company, wrestling for TNA (later, Impact Wrestling) from 2006 till 2016. As such, Angle is just as familiar with what's going on outside of the WWE, including the name talent. During the latest "Ask Kurt Anything" episode of "The Kurt Angle Show," Angle was asked by a fan who his favorite non-WWE wrestler is today. The former WWE and TNA World Champion wasted little time giving his answer, naming a wrestler who's quite a big fan of his.
"That's easy, Kenny Omega," Angle said. "I might have to make him my girlfriend. I love Bryan Danielson, but you know what, Bryan Danielson has been part of WWE."
Angle also touched upon his favorite female talents in wrestling today, with Mercedes Moné being atop the list outside WWE. However, while praising Mone, Angle also took the opportunity to heap even more praise on a current WWE star, and another one of the Four Horsewomen, alongside Moné, Bayley, and Becky Lynch.
"She's [Moné's] a good one to pick," Angle said. "That would be my favorite female [outside of WWE]. Listen, I love Charlotte Flair. I think she's the best of all time. I actually think she's the best wrestler in the world overall, I really do. I think Charlotte Flair has had more consistent five-star matches than any other person. She is really, really good. But Sasha Banks, Mercedes, she's awesome too."
If you use quotes in this article, please credit "The Kurt Angle Show" and provide an h/t to Wrestling Inc. for the transcription