Mick Foley Recalls Terry Funk Saying Getting Stabbed Was The Ultimate Compliment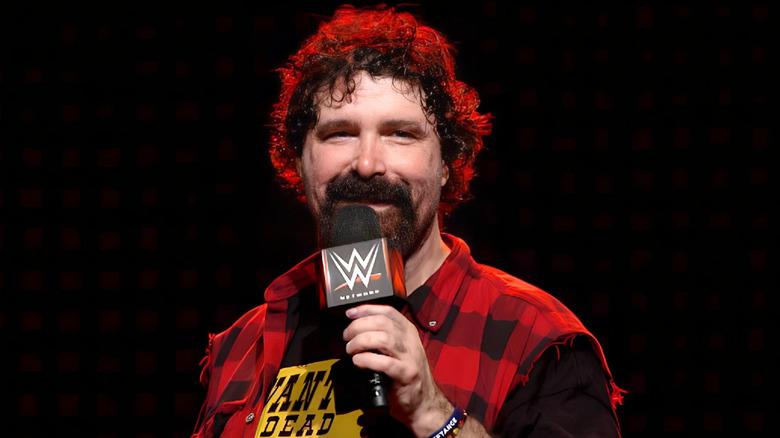 WWE
The best wrestlers can tell a story or portray a character so well that they evoke intense emotions from the audience. However, it takes a whole other caliber of heel to inspire their fans to cause them physical harm. And among the greatest to ever do it stand Terry Funk and "Rowdy" Roddy Piper. During the latest episode of "Foley Is Pod," the hardcore legend Mick Foley discussed his experience on the Piper episode of "WWE's Most Wanted Treasures." Courtesy of the late champion's daughter and fellow professional wrestler Teal Piper, Foley learned the real reason that "Hot Rod" wore a leather jacket to the ring. As it turns out, it was a protective measure because he had been stabbed three times in the past.
After calling a stabbing story the "hallmark of a good heel," this prompted "Mrs. Foley's Baby Boy" to reminisce about his friend, mentor, and notorious wild man Terry Funk. The duo were in Corpus Cristi, Texas in 1990 and Funk showed Foley the building where he was stabbed by a fan approximately a decade or so earlier. But when asked about pressing charges, "The Funker" was surprised by the question.
"He looked at me and goes, 'What did you say?'," said Foley. "He got in close to my face [and said,] 'How could I do that? Why would I press charges against someone who's paying me the ultimate compliment?"
What the Funk?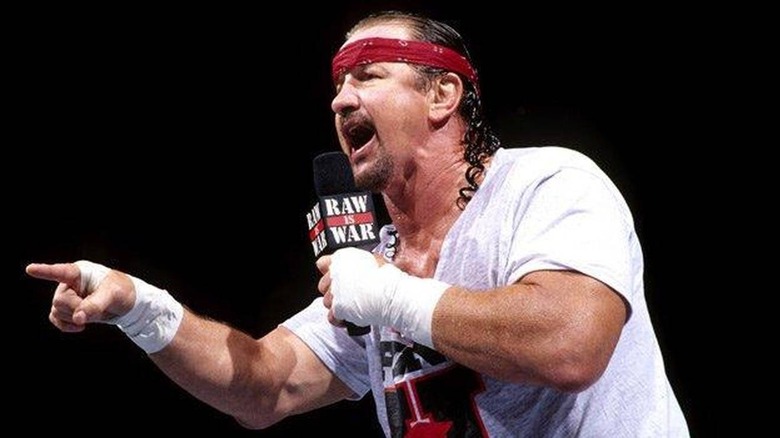 WWE
After reminding the audience that stabbing a wrestler is no longer the ultimate compliment that it once was, Foley revealed that the closest he'd ever come to an interaction like that was when an older woman poked him in his kidneys with an umbrella in Guam. Although, since one good Funk story deserves another, the WWE Hall of Famer also shared a time when his hero almost got more than stabbed. 
While receiving an award at a lucha libre show in front of a predominantly Hispanic audience in Chicago, Funk called Mexican wrestlers "gutless." His comments caused a melee that sent Foley andthe homicidal, suicidal, genocidal Sabu to the locker room to seek safety. However, the Texan was straddling a guardrail like a horse in the middle of the mayhem.
"He [was] having the time of his life," chuckled Foley. "He's got either a chain or a rope with the cowbell on the end of it. It's all just part of the party for Terry like it's just part of being a heel ... This is something he not only accepts but looks forward to and likes and thrives on." Modern heels may throw around childish insults and drag their feet on competing in matches regularly to get heat, but it's not likely that they will infuriate a crowd as Funk did back in the day because, as Foley points out about the living legend, "people literally wanted to kill him."
If you use any of the quotes in this article, please credit Foley Is Pod with a h/t to Wrestling Inc. for the transcription.